Apprenticeship
Advanced Certificate
Delta College offers required Trade Related Instruction Programs for apprentices and up-graders in the industrial trades, building trades, and maintenance trades from the tri-county and surrounding areas. Trade Related Instruction Programs are designed with the cooperation of industry and provide the instruction to strengthen the theoretical knowledge in each trade area. The combination of related instruction and on-the-job experience is essential in order to provide a complete program to train skilled personnel for the trades.
Courses are offered during the evening only. The scheduling and registration for courses is the responsibility of the Skilled Trades department; therefore, any inquiry about a particular class should be made directly to them at 989-686-9476 or 989-686-9594.
Since many company apprenticeship programs are registered with the U.S. Department of Labor, Bureau of Apprenticeship and Training, it is imperative that the registration of these courses be coordinated by the local plant apprenticeship coordinator and the Skilled Trades department. All Trade Related Instruction is subject to change per agreement with the participating employer and Delta College. Delta College does not issue a journeyman's card only a completion certificate.
The following program is representative of the typical Trade Related Instruction Programs Delta College offers in conjunction with area employers. Employers, however, are not restricted to just these programs and many elect to modify our programs to meet their specific needs. Employers desiring more information on Delta's Trade Related Instruction Programs should call the Skilled Trades Manager at 989-686-9594 or 989-686-9476.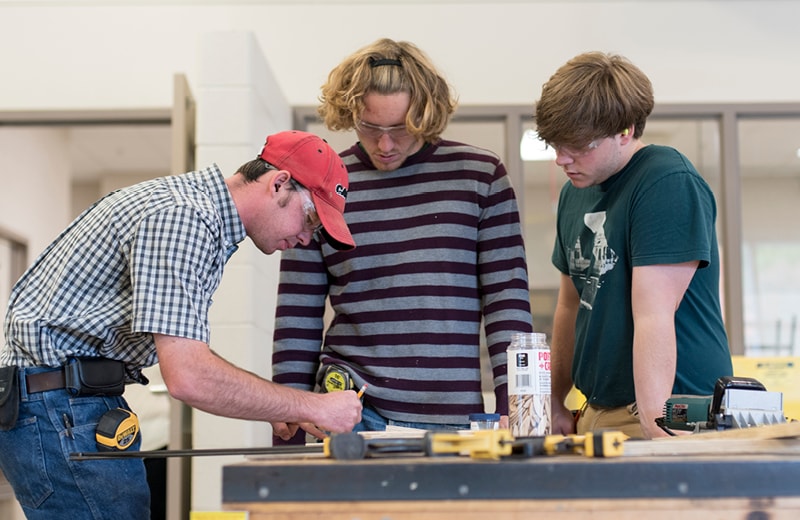 Tracks - Industrial Maintenance
Tracks - Machine Repair and Mechanics
Machine Builder – 40 credits
Course
Credits
Course Title
SKDR 101
3
Blueprint Reading
SKMA 103
4
Applied Geometry and Trigonometry
SKMT 220
3
Hydraulics and Pneumatics I
SKMT 222
3
Hydraulics and Pneumatics II
SKMT 151
3
Power Transmission
SKMT 161
2
Industrial Rigging and Safety
SKOT 191
3
Machine Controls I
SKOT 192
3
Machine Controls II
SKPT 106
3
Pipefitters Handbook
SKTR 181W
4
Machine Tools I

(Note: SKTR 113 is a prerequisite.)

SKTR 183
3
Machinery Handbook
SKWL 103
3
Introduction to Plasma, Carbon Arc and Fuel Gas Cutting
SKWL 104
3
Introduction to Shielded Metal Arc Welding
40 credits
Machine Repair – 40 credits
Course
Credits
Course Title
SKCN 162
4
Computer Numerical Control Theory
SKDR 101
3
Blueprint Reading
SKDR 111
3

Drawing II

SKMA 103
4

Mathematics III

SKMT 220
3
Hydraulics and Pneumatics I
SKMT 222
3
Hydraulics and Pneumatics II
SKMT 111
3
Metals
SKMT 161
2
Industrial Rigging and Safety
SKPH 101
4
Applied Physics
SKTR 181W
4
Machine Tools I

(Note: SKTR 113 is a prerequisite.)

SKTR 182
4
Machine Tools II
SKTR 183
3
Machinery Handbook
40 credits
Millwright –34 credits
| Course | Credits | Course Title |
| --- | --- | --- |
| SKCT 101 | 3 | Industrial Millwright Procedures |
| | | |
| SKDR 101 | 3 | Blueprint Reading |
| | | |
| SKMA 103 | 4 | Applied Geometry and Trigonometry |
| | | |
| SKMT 220 | 3 | Hydraulics and Pneumatics I |
| | | |
| SKMT 222 | 3 | Hydraulics and Pneumatics II |
| | | |
| SKMT 151 | 3 | Power Transmission |
| | | |
| SKMT 161 | 2 | Industrial Rigging and Safety |
| | | |
| SKMT 171 | 3 | Sheetmetal Layout I |
| | | |
| SKPH 101 | 4 | Applied Physics |
| | | |
| SKWL 103 | 3 | Introduction to Plasma, Carbon Arc and Fuel Gas Cutting |
| | | |
| SKWL 104 | 3 | Introduction to Shielded Metal Arc Welding |
| | | |
| | 34 credits | |
| | | |
Tracks - Precision Production