Delta College outlines plan for fall semester
August 5, 2020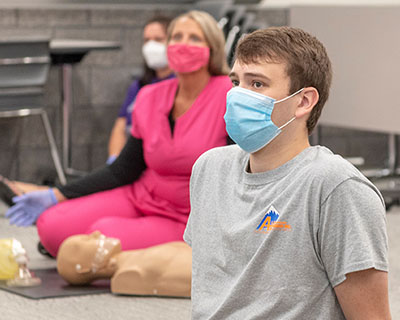 Delta College is preparing for the fall semester with courses planned to take place online and on-campus.
The college's COVID-19 Response Team is rolling out its reopening plan that follows recommendations from the state, Centers for Disease Control and Prevention (CDC) and area health agencies. The plan includes new practices and standards to ensure a clean and safe environment for students, faculty and staff members.
"Safety is our guiding principle, so this plan is entirely dependent on each and every member of the Delta community to closely follow these new instructions," said Dr. Jean Goodnow, president of Delta College. "It's important that we all sustain a culture of caring and respect for ourselves and each other so we can continue to learn, teach and plan for the future."
More than half of fall classes will be delivered in an online or hybrid format, and most classes that require lab learning or hands-on training will take place in person with appropriate safeguards.
Campus Safety
Before entering a Delta building, students will be asked to complete an online health screening. Faculty and staff members must also complete a health screening before entering campus facilities.
A variety of social distancing practices will be enforced, including face masks, enhanced cleaning methods and appropriately configured classrooms and common areas. Learn more about campus safety.
Support and Resources
Most of Delta's support services and resources are being offered virtually, including career advising, tutoring, testing, academic advising, counseling and financial aid. Learn more about Delta's services.
Registration for the fall semester is available now and courses begin August 29. Visit delta.edu/admissions or contact Delta Admissions at admit@delta.edu or 989-686-9093.
For more information about Delta's plan, visit www.delta.edu/reopening.

Written by Leah Twilley, Communications Specialist.