Distinguished Alumni: Mayor Brenda Moore
May 11, 2023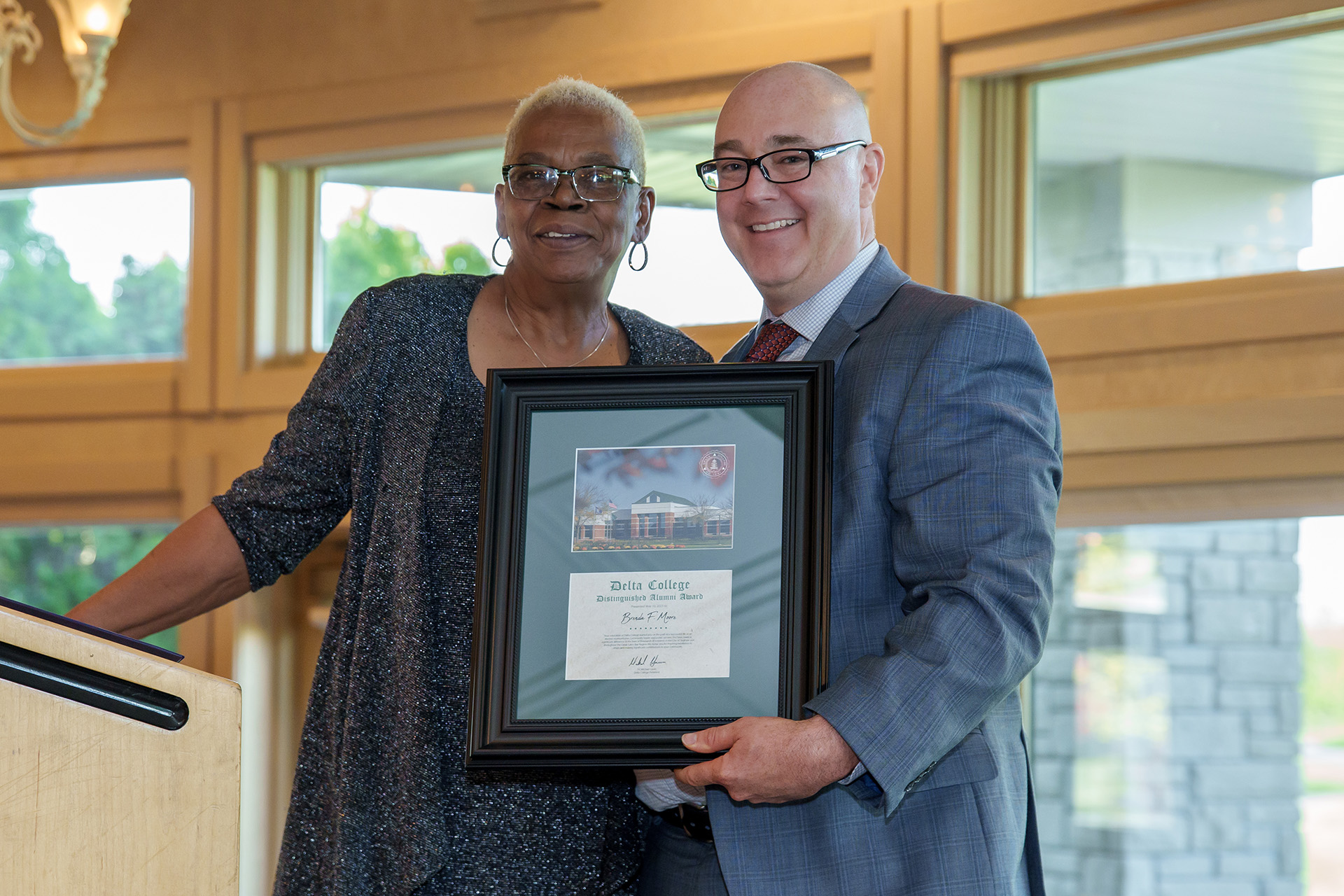 Delta College presented its annual Distinguished Alumni Award to Mayor Brenda Moore of Saginaw during the President's Circle Award Dinner on May 10 at Apple Mountain in Freeland.
Moore is a 1987 graduate of Delta College, receiving her Associate of Liberal Arts degree, and is a graduate of Saginaw High School. A lifelong Saginaw resident with a profound love for community work, Moore is passionate about helping individuals by providing support and assistance to enrich their lives.

"I'm thankful. I'm grateful. Delta taught me early on that the sky is the limit," Moore said in her acceptance speech. "Delta was my anchor and everyone needs an anchor."

Moore was elected mayor by Saginaw City Council in 2020 and unanimously reelected in 2022, calling the support to remain mayor "a tremendous honor."

In 2013, she was elected to City Council. She became involved with the Michigan Municipal League by attending conferences and training to understand and evolve as a newly elected official.

Over time she served as president of the Board of Trustees for the Michigan Municipal League, second vice president for the Michigan Black Caucus of Local Elected Officials, and president of the Elected Officials Academy and the Municipal Finance Committee. Moore is also a City County School Liaison Committee member and hopes to impact our youth through her position on City Council positively.

With a profound love for her hometown, she enjoys attending community events, especially in the summer, including Jazz on Jefferson, Light Up the City, and the Friday Night Live concerts. She's a member of Greater Renaissance Baptist Church, where she serves as needed through volunteering.

"I'm a child of God, and my life has revolved around doing two things: loving my neighbor and respecting my neighbor. As a politician, we are servants. I came to serve," Moore said.
distinguished alumni award
Since 1994, the Distinguished Alumni Award has recognized Delta graduates who are notably esteemed community members through their service and support of the college and have attained prominence through professional achievement and career distinction.
By Ashley Terrell, Writer.