Planetarium offering online programming this summer
May 29, 2020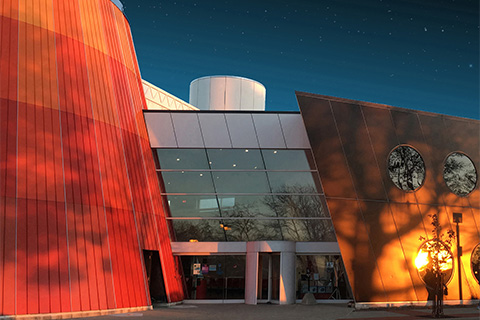 The Delta College Planetarium will temporary halt public shows, exhibits and events this summer as staff members determine best safety and precautionary practices for visitors.
Mike Murray, Planetarium manager, said the building will reopen and public shows and activities will start up again in the fall.
"Our intention here is to make sure the public is well informed of our safety measures so they feel comfortable coming back to the Planetarium," said Murray. "Since closing, we've expanded our online services, which has allowed us to stay connected and meet new people."
Murray is planning several special shows and online activities this summer for families, adults and K-12 teachers. Some will be recorded productions while others will invite the public to participate in livestream events. The team is also working with local schools to organize virtual field trips for elementary students, expanding to middle and high school levels in the fall.
Murray encourages people to stay connected online and on social media through weekly programs:
Delta College Planetarium YouTube Series
Original productions by Planetarium staff, including an in-depth look at the constellations.
For more information, visit delta.edu/planetarium.


Written by Leah Twilley, Communications Specialist.