Delta College celebrates its 200 apprentices during National Apprenticeship Week
November 10, 2020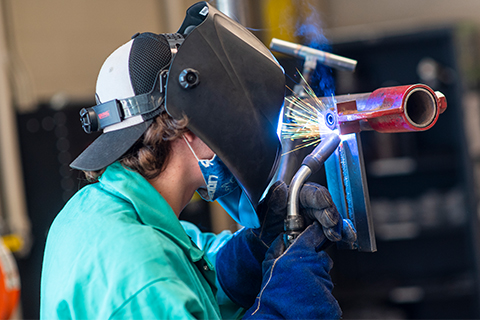 Brad Kenel was taking general classes at Delta College when he was offered an apprenticeship position at Dow.
Now, he's working as an apprentice and has returned to Delta to train in the electrical and instrumentation maintenance technologist program, a first of its kind to be offered in the Great Lakes Bay Region.
"I found out that Dow works directly with Delta on job training, so I came back to Delta in June," said Kenel.
Kenel, from Saginaw, is one of about 200 apprentices attending Delta College to study their trade while working full-time by a sponsoring employer. These individuals are being celebrated during National Apprenticeship Week, November 8-14.
In 2019, the U.S. Department of Labor reported more than 252,000 individuals nationwide entered an apprenticeship program. In 2020, there have been more than 633,000.
"Our students are part of those numbers," said Harvey Schneider, coordinator of Delta's skilled trades programs. "When I talk to high school students about apprenticeships, I always ask if they know of Benjamin Franklin and Paul Revere. Ben was a printer and Paul was a silver smith, and they were both apprentices. That's how they learned their trade."
Delta works with about 80 area employers from 14 counties. In total, the college offers 23 skilled trade associate degree or certificate programs, and many include the option of an apprenticeship.
Schneider said now more than ever, the job outlook for skill trades professionals is high.
"Our graduates are not having any trouble finding jobs," he said. "There's a big need for electricians, machinists and welders right now. And many of our students choose an apprenticeship route because they can get paid with on-the-job training and oftentimes, their employer will pay for their schooling."
Written by Leah Twilley, Communications Specialist.