Correcting the "Made-for-TV" Version of the Corrections Field
Michele is a frequent viewer of "Law & Order," particularly the "Special Victims Unit" spinoff. But while she loves the show, something about it really bugs her.
"Inevitably, when they go to Rikers Island jail, they show a guard manhandling the prisoners and speaking to them in a degrading fashion," Michele says. "You wouldn't do this to another human being."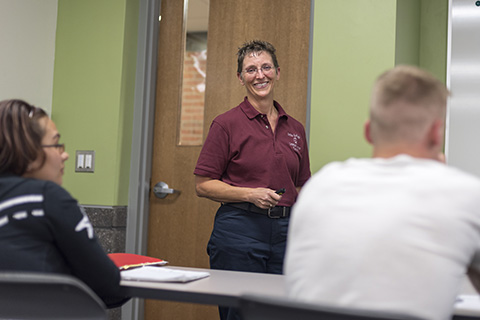 Michele says this portrayal is inaccurate – and as a former corrections deputy who worked in prisoner transport, she'd know. One of her goals as coordinator of Delta College's corrections program is to give students and the public a reality check.
"I try to erase the television nonsense and teach what corrections is actually about – working with people who have made mistakes," she says. "It's deescalating situations with communication. It's how even a small female can work with hardened felons and dangerous people."
Today's corrections officers – and others in criminal justice jobs – are equipped to communicate this way. They get the training they need through programs like Michele's.
"In addition to areas like criminal science, psychology and sociology, we deal a lot with the U.S. Constitution, citizens' rights and due
A Bright Future in Corrections
Even before she began teaching, Michele knew Delta was a great place to get started in criminal justice.
"I came here as a student with no idea what I wanted to do," she says. "I took a law enforcement class out of curiosity, and I fell in love with it. Before long I had an associate's degree and was working with the Bay County Sherriff's Office."
A co-worker encouraged Michele to take an instructor position at Delta, saying she'd be a great teacher. Now, Michele sees students come into her classroom in the same position she'd been in years ago.
The faculty's real-life corrections experience is one of the reasons students enjoy the program. Michele proudly points out that all of Delta's corrections instructors have "worn the uniform," which is not the case at every school.
Students can obtain the vocational certificate in corrections and begin working right away, or go on to obtain an associate's degree. State and local correctional facilities are looking to fill "hundreds of jobs," Michele says.
"The corrections field is about deescalating situations with communication. It's how even a small female can work with hardened felons and dangerous people."
Michele Whitaker
Associate Professor of Corrections

And thanks to the reality check they get in Delta's program, they will know exactly what to expect.
"A lot of corrections work is done behind the scenes, so there isn't an accurate view of it," she says. "In these jobs, we speak to people like people. We emphasize that over and over again in the program."
Are you interested in pursuing a career in corrections? Delta College is the perfect place to start. Apply now.