Delta professor, staff recognized for the League Excellence Award
January 19, 2023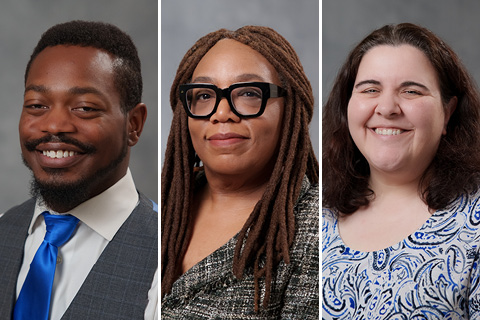 Three individuals from Delta College have been selected to each receive a national award that recognizes their exceptional teaching and leadership to their college community.
Brandell Adams, second chance pell coordinator/student success advisor; Dr. Angela Guy-Lee, assistant professor of sociology; and Anna Williams, administrative assistant to the vice president; are recipients of a 2022-2023 League Excellence Award, presented by the League for Innovation in the Community College.
The trio was nominated by Delta College President Dr. Michael Gavin and will be recognized at the 2023 Innovations Conference from March 11-14, 2023, in Tempe, Arizona. The award presentation will take place at the end of the ceremony.
Adams' journey at Delta began in 2020 in the Registrar's Office before moving to his current position. In his role as coordinator, he visits incarcerated individuals to gauge their eligibility for the Entrepreneurship program. As an advisor, he supports incarcerated and traditional students in the Arts and Letters programs from course scheduling to their commencement.
"I love to solve problems and find solutions for people and my role here at Delta College provides the opportunity to do that," Adams said. "I have the responsibility to provide that help and support to others and it's this responsibility that wakes me up every day."
Guy-Lee joined Delta in 2018. In her role as a professor, she says teaching and encouraging her students to "think critically" in her anthropology and sociology courses is the most important aspect of her job.
"Seeing students gain confidence in their academic skills is very exciting," Guy-Lee said. "I feel fortunate to have a job I love. Being recognized for doing what I love is like icing on the cake."
Growing up as a self-proclaimed "professor's kid" in college towns, she said she intends to "use my sphere of influence to uplift my students and the community Delta College serves."
Williams, who began her career at Delta in 2017 as an office professional in Student and Civic Engagement (SACE) before transitioning to her current role in 2019, says she's overwhelmed by the nomination but is happy to help make Delta better than it already is.
"We are making a difference in the lives of our students. We are helping them to reach their dreams and building relationships along the way. I recognize that we all work together to create the big picture regardless of our position. We are all valued here, and that is a pretty good feeling," Williams said.
About the League
The League for Innovation in the Community College is an international nonprofit organization with a mission to cultivate innovation in the community college environment. In 1969, Delta joined 11 institutions across the country to become one of the original organizing members of the League. Delta continues to serve on its Board of Directors as a founding member.
By Ashley Terrell, Writer.