Woodard to receive Spirit of MLK Award
January 10, 2022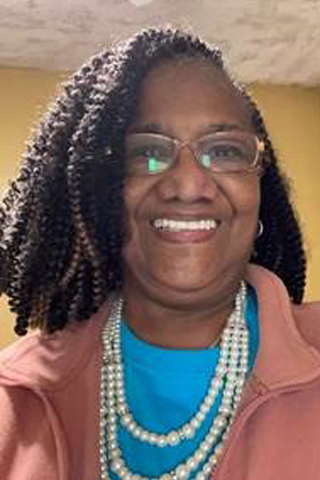 Lula Woodard, adjunct professor of English, has been named the 2022 recipient of the Spirit of Martin Luther King, Jr. Award.
Woodard, who has taught at Delta for seven years and is also and a certified substance abuse prevention and recovery coach throughout the Great Lakes Bay Region, will receive the award January 17 at the 26th annual Martin Luther King Jr. Unity Luncheon, taking place at The Dow Event Center in Saginaw.
"I am elated to have been chosen for this award," Woodard said. "This is work that I've been involved in for years, since I was a teen growing up in Chicago. I see myself as a trailblazer of light and peace."
Woodard is known as an extremely passionate and compassionate teacher, community leader and social justice advocate. She's involved in a variety of community organizations including Victorious Believers Ministries, Women of Colors and Saginaw Citizens United.
Woodard, originally from Alabama, earned an education specialist degree in Education Leadership from Saginaw Valley University, a master of arts degree from the University of Alabama, a bachelor of science degree in Special Education from Chicago State University and an additional major in Mental Health and Psychology from Chicago City College.
Woodard has resided in the City of Saginaw for nearly 40 years. She has two daughters, five grandchildren and four great-grandchildren.
The award is presented by the Delta College Black Faculty and Staff Association and the Saginaw chapter of Alpha Phi Alpha, of which MLK was a member. Each year, BFSA members select an employee whose service to the college and community exemplifies the spirit of MLK's work and values.
For more information about the event, please contact Christopher A. Foxx, Alpha Phi Alpha Fraternity MLK Event Chair, at 989-295-1271.
Past Award Recipients
2021 – Beth Kelch
2020 – Carlos McMath
2019 – John Neal
2018 – Veronica Bond
2017 – Monica Hernandez-Alaniz
2016 – Rosemary Reeves
2015 – Dr. Linda Holoman
2014 – Dr. Charissa Urbano
2013 – Carl Ruth
2012 – Beverly Westbrook
2011 – Mary Beth Looby
2010 – Dr. Jean Goodnow
2009 – William E. Ketchum, Jr.
2008 – Teresa Stitt
2007 – Katrina Nichols
2006 – Joan Sabourin
2005 – Jack Crowell
2004 – Neville Britto
2003 – John Pugh
2002 – Willie Thompson