Delta College soccer claims first national championship title
June 8, 2021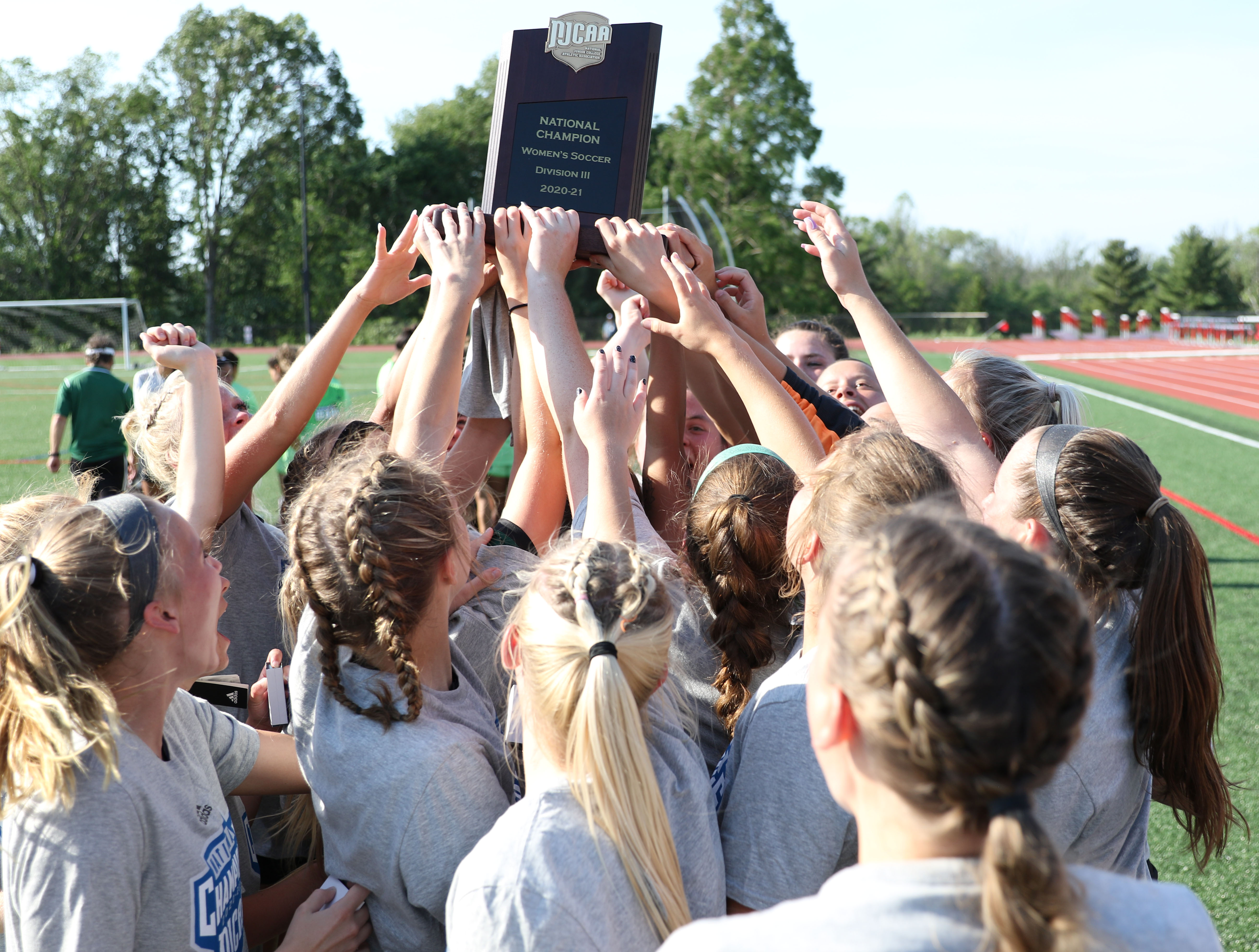 The tournament, which took place June 2-5 at Union County College, marked the team's third trip in a row to the national championship and its first win. The Pioneers faced the Dallas College Brookhaven Lady Bears during the final game and won, 4-1.
"It was this team working hard for 10 months not knowing if there would even be a tournament," said Damon Amey, head soccer coach for Delta. "They brought in everything we are about, and they never complained once. The offensive players showed up, and when they had the opportunities to put the ball into the back of the net, they did just that."
First-year student Faith Webber, a forward from Grand Blanc, scored the first goal of the game.
"I've never been on a team that each player put forth the effort that this team did," Webber said. "It was the energy and drive to be that person to put a goal in the back of the net or make that defensive stop. Our coach from the beginning told us always to take the high road. We are a family."
The Pioneers finished the season undefeated, 12-0, a first for the team, said Dionne McCollum, director of the Athletics and Student Athlete Development.
"This win is life changing and these ladies will carry this with them for the rest of their lives," McCollum said. "They have been extremely resilient. From having their season pushed back 10 months to being tested for COVID often and having multiple games canceled, they stayed together as one unit and that is thanks to the leadership of their coaches, Damon Amey and Paul Stenglein."
In May, the Pioneers advanced to the national championship after defeating Jefferson College, which earned them the NJCAA Midwest District title.
Learn more about the Delta College women's soccer team at deltapioneers.com.
Team Roster
Katie Bishop (Grand Blanc)
Lexi Blanchard (Houghton Lake)
Carley Bolen (Tawas)
Maddy Boyes (Freeland)
Macy Dickinson (Alpena)
Rachel Durussel (Saginaw)
Tessa Garnett (Grand Blanc)
Mackenzie Gilbert (Davison)
Elizabeth Green (Midland)
Emma Gustafson (Traverse City)
Rachel Hahn (Essexville)
Alex Heeke (Grand Blanc)
Emerson Lynch (Freeland)
Molly Mantei (Bay City)
Tori Pilon (Freeland)
Charlotte Pohl (Midland)
Olivia Rechsteiner (Bay City)
Claire Rousse (Bay City)
Karli Scott (Cadillac)
Paige Timpe (Plainwell)
Ila Tuller (Corunna)
Natelle Vantol (Essexville)
Faith Webber (Grand Blanc)
Olivia Willette (Bay City)
Anna Young (Alpena)
Eden Zann (Alpena)
Meredith Zinz (Saginaw)
Written by Leah Twilley, Communications Specialist.