Planetarium's virtual event goes viral, reaching millions around the world
February 18, 2021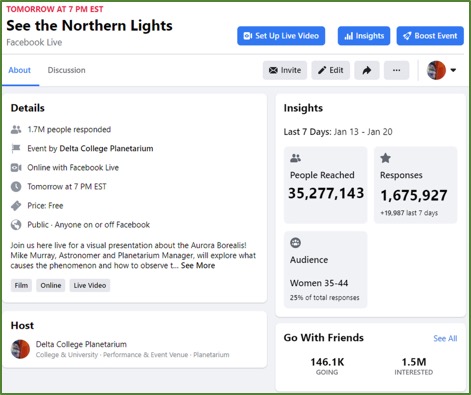 One Facebook post. That's all it took for the Delta College Planetarium to go viral, reaching millions of people around the world, from Iceland and Australia to Argentina and South Africa.
In December, Mike Murray shared information on the Planetarium's Facebook page about a livestream event, "See the Northern Lights," that took place in January. Hosting events online for the community has become a normal occurrence since the Planetarium is temporary closed due to the pandemic.
Within days, the number of people reached on Facebook was in the millions. By mid-January, the post reached 35 million people and 175,000 people indicated that they would be attending the event.
"I think a lot of it had to do with the topic and title of the event," said Murray, astronomer and manager of the Planetarium. "The Northern Lights has always proved to be a popular topic and I think people wanted to learn about and see a live feed of the lights, which we always try to do."
On January 21, more than 100,000 people tuned in to the 30-minute presentation. Here are just a few of the thousands of comments:
"It is my 50th birthday today – perfect lockdown birthday present. Watching from London."
"My name is Aurora and I am eight years old. I am watching this with my nana."
"Beautiful and interesting. Thank you from Brisbane, Australia."
"One of the great spinoff benefits of all this attention has been what it's done to the followers of our page," said Murray. "We've gone from 5,000 followers to over 61,000. Our YouTube subscribers went up and organizations have reached out about guest presenting the program on their sites."
A recording of the presentation, which has more than 800,000 views, is available to see on the Planetarium's Facebook page.
The Planetarium's next Facebook livestream event, "Why Mars?," will take place on February 25 at 7pm. Murray will discuss NASA's Perseverance rover, which will touch down on Mars this month, as well as highlight other missions to the Red Planet.
For more information about the Delta College Planetarium, visit delta.edu/planetarium.
Written by Leah Twilley, Communications Specialist.