Delta College offering motorcycle safety course for new riders
June 9, 2021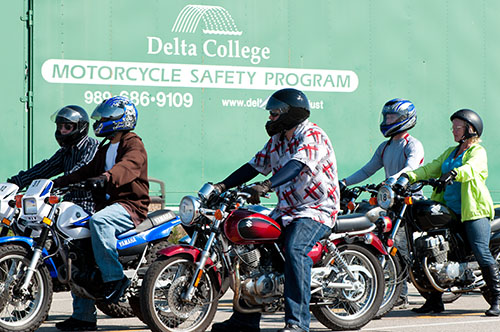 The Motorcycle Safety program includes online safety training, classroom learning and practicing on motorcycles on the college's main campus. Successful completion of the course will allow riders to waive the skills and knowledge test requirement to obtain a motorcycle endorsement.
Jennifer Carroll, director of Corporate Services for Delta, said this course is just one way Delta is serving the Great Lakes Bay Region.
"According to the Michigan Office of Highway Safety Planning office, there were 152 motorcycle fatalities in the past year, an increase of 25 percent, so this course is important now more than ever," Carroll said.
Registration is available for sessions in late July, August and September, during the week or on the weekend. The fee is $50; Delta provides the motorcycles.
Delta has provided the safety course for 18 years, with more than 500 people who enroll each year. The program is supported by a state grant administered by the Michigan Department of State and federal funds from Michigan Office Highway Safety and Planning.
Register or learn more at go.delta.edu/motorcyclesafety.
Written by Leah Twilley, Communications Specialist.