Delta College faculty, staff recognized for excellence by national group
January 5, 2021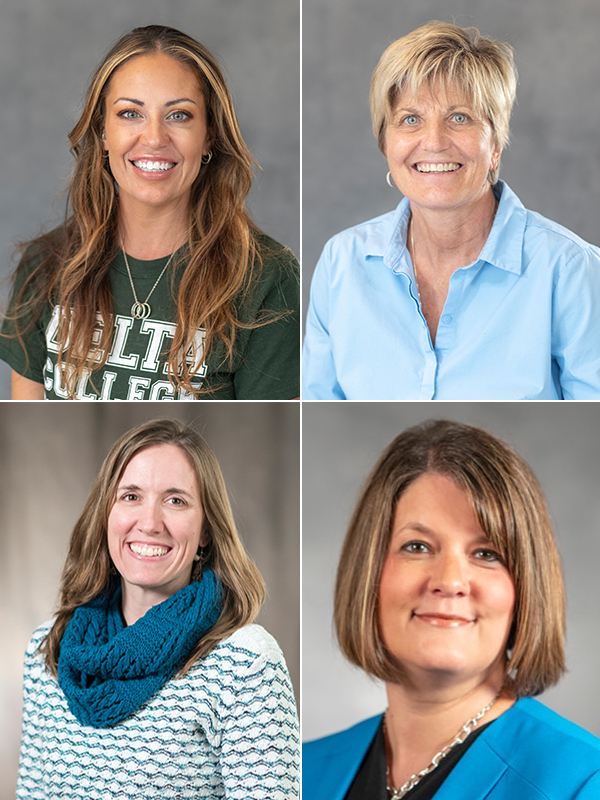 Four individuals from Delta College have been selected to receive a national award that recognizes exceptional teaching and leadership.
Renee Hoppe, professor of lifelong wellness; Kimberly Klein, professor of political science; Lisa Lawrason, professor political science; and Andrea Ursuy, executive director of Administrative Services and Institutional Effectiveness are recipients of a 2020-2021 League Excellence Award, presented by the League for Innovation in the Community College.
The award recipients were nominated by Delta College President Dr. Jean Goodnow. They will be recognized at the virtual 2021 Innovations Conference in early March.
Hoppe, who began teaching at Delta in 2008, first came to the college as a student athlete on the softball team.
"I met many faculty and staff that cared about me and wanted to see me succeed in my career and as a person. Now I get to sit in their seat as an instructor and do the same things for my students," said Hoppe.
She said it is most rewarding part when students tell her that what they learned is going to benefit them beyond classroom walls.
Klein, also a Delta graduate, joined the college in 1999 as an adjunct faculty member. She said teaching is a calling and an opportunity to give back.
"There are so many things I enjoy about teaching, but most of all, I value the time I get to spend with students," Klein said. "I believe in them and it is a time when I can share my passion, not only on the subject matter, but life in general. We all need somebody in our corner, and I see this as my calling to pay it forward."
Lawrason joined Delta in 2006. She said it's a privilege to be part of her students' journeys and get to know some of the most amazing people who persevere despite whatever life throws at them.
"As teachers, we have the incredible opportunity to open up for our students an entirely new world they never knew existed," Lawrason said. "We can empower them with the knowledge and skills to engage in that world and use it to make a positive change."
Having marked 20 years at Delta College in May, Ursuy said she feels honored to receive this recognition.
"Whenever I'm asked what I enjoy about my job, my response is always 'the people,'" she said. "Delta College has wonderful people who I have the honor of working with every day."
About the League
The League for Innovation in the Community College is an international nonprofit organization with a mission to cultivate innovation in the community college environment. In 1969, Delta joined 11 institutions across the country to become one of the original organizing members of the League. Delta continues to serve on its Board of Directors as a founding member.

Written by Leah Twilley, Communications Specialist.