Delta College recognized for voter registration efforts
November 18, 2021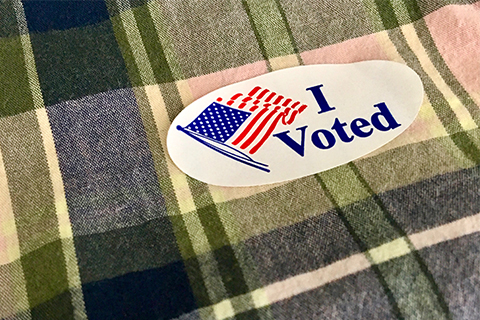 Delta College was recognized in November for its efforts to engage students about the importance of voting during the 2020 presidential election.
The college received the Highest Voter Registration Award for Two-Year Colleges November 8 at the ALL IN Campus Democracy Challenge's third biennial awards ceremony, which celebrated institutions, educators and students for their voter engagement work in 2020.
Delta also received the Best Action Award in the community college category and a bronze seal for a campuswide voter turnout rate of 58.6 percent, three percentage points above the national average and an 8 percent increase from the 2016 election.
"Receiving these awards sets Delta apart as a leader in civic learning and engagement among two-year institutions," said Lisa Lawrason, professor of political science. "The best part is the empowerment of our students that the award represents. Delta students are realizing that their voice matters, and they are gaining the knowledge and skills to make it heard."
As part of engagement efforts last year, Delta hosted a political forum and voter registration drives, organized Change Your World Week for students to learn about political candidates, and subscribed to TurboVote, a service that helps students start the voter registration process.
The 2020 election cycle saw unprecedented voter registration and turnout among college students according to a research study of the Institute for Democracy in Higher Education (IDHE) at Tufts University. IDHE reported that 66 percent of college students voted in the 2020 election, a 14-point increase from 2016.

The ALL IN Campus Democracy Challenge is a national, nonpartisan initiative of Civic Nation, a national nonprofit organization. Learn more at allinchallenge.org/awards-ceremony.
Written by Leah Twilley, Communications Specialist.