Delta College to host national podcasters for friendly debate
September 22, 2020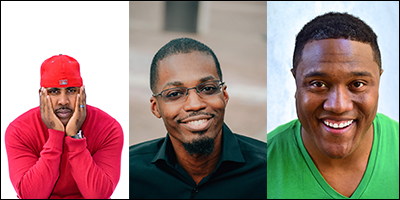 A trio of comedians known for their weekly podcast about current topics and issues will host a virtual event October 15 for Delta College students, faculty and staff members.
The free event, "Authentic Debate on Race and Relationships," will take place at 1pm on Zoom. It will feature national-touring comedians Sidney Smith and Deon Curry, and Stan Pearson, an award-winning motivational speaker and author.
"I often listen to this podcast because it provides meaningful conversations about important topics like race, politics and relationships," said Karl Rishe, vice president of Student and Educational Services. "The three hosts are very thought provoking and they are not afraid to tackle sensitive topics."
The trio hosts the podcast, "Now That's Debatable," which takes a look at topics like race, education, politics and pop culture. Each person brings a different opinion to an interactive and spirited debate with themselves and their audience.
Registration for the event is required at bit.ly/3ci0A73.
For more information, contact Alison Ginter in the Campus Life and Student Engagement Office at alisonginter@delta.edu or 989-686-9121.
Written by Leah Twilley, Communications Specialist.