Q-TV Documentary Wins Broadcast Excellence Award
February 25, 2019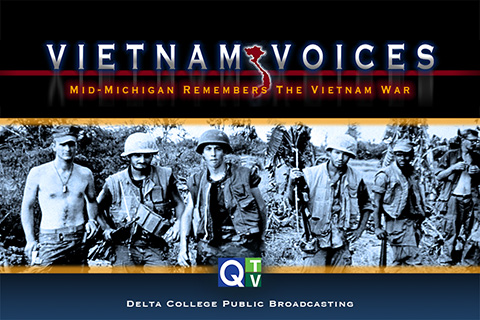 "VIETNAM VOICES: Mid-Michigan Remembers the Vietnam War," a Q-TV production, has been awarded a 2018 Broadcast Excellence Award for Best in Category – Documentary by the Michigan Association of Broadcasters.
Bob Przybylski produced the documentary and will attend the awards ceremony at the MAB conference in Lansing on March 6.
"VIETNAM VOICES: Mid-Michigan Remembers the Vietnam War" features 31 local individuals who reflect back on their personal experiences during the volatile Vietnam War era. To explore topics such as the anti-war movement, the impact of television news coverage of the war, Agent Orange, PTSD, the Vietnam War Memorial and more, the documentary included 21 Vietnam War veterans, as well as anti-war protesters, family members, high school and college students who were eligible for the military draft and two Vietnamese immigrants who came to the United States after the war.
"The award is very meaningful to me as it is voted on by peers and it is nice to know your work is appreciated by others in the industry," said Przybylski, who has been in broadcasting for 28 years, including 15 at Q-TV, and has produced and directed nine feature documentaries on a variety of historical topics. "It is also gratifying that the participants were happy with the final program. This was a very emotional thing for them, and for us, as some of them told us some things they haven't told anyone else. We wanted to do a good job so they would not regret that."
WDCQ – Delta College Public Broadcasting has been producing local documentaries since 2005 that have included such veteran orientated programs as World War II and the Korean War, along with many historical programs that focused on the regions lumbering history, railroads and early immigrants. This is the fifth documentary produced by Przybylski that has won a MAB Excellence Award.
For more information on "VIETNAM VOICES: Mid-Michigan Remembers the Vietnam War" contact Przybylski at WDCQ - Delta College Public Broadcasting at 989-686-9569 or email robertprzybylski@delta.edu.