Women's Soccer Competes in National Championship
November 8, 2019
Updated November 15, 2019 and November 16, 2019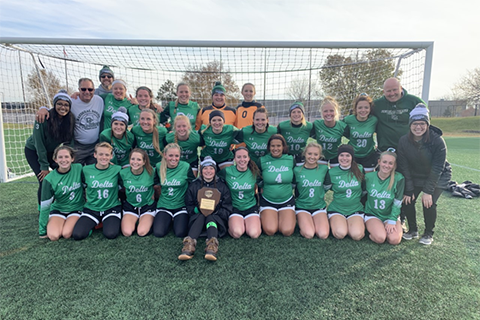 Last Sunday, the Delta College Pioneer women's soccer team clinched the NJCAA Division III Great Lakes Region District Championship with a 3-1 win over Anoka-Ramsey Community College in Coon Rapids, Minnesota.
"The girls played amazing. They kept the ball on the ground, played a fast-paced game and played together," Coach Damon Amey said, when asked about the weekend's play.
With Sunday's win, the Lady Pioneers punched their ticket to the 2019 NJCAA Division III Women's Soccer National Tournament. Nationals is November 14-17 at Tompkins Cortland Community College in Dryden, New York.
Team comes out on top in quarterfinals
During the quarterfinal game November 14, the number two ranked Lady Pioneers faced number seven ranked Howard Community College, and won in double overtime, 2-1. Sophomore Hannah Emington scored both goals for Delta. The team will play Nassau Community College of Garden City, New York in the semifinal game November 15 at 6pm.
Pioneers move on to championship game
The Lady Pioneers pulled off a nail biting semifinal game defeating Nassau Community College in penalty kicks. Rachel Hahn scored the only goal in the first half. Molly Mantei dominated the goal in penalty kicks forcing two stops. The team stepped up to plate converting penalty kicks by Ana Irish, Lexi Blanchard and Hunter Kukla, ending in a tie 1–1 at the end of regulation and also at the end of the first and second overtime periods. Five players from each team participated in a shootout, ending in the Pioneers winning three goals to one to advance to the championship game. Delta will play at 12pm on Sunday, November 17, 2019 against Brookhaven College of Farmers Branch, Texas.
"I'm super excited to go back to the tournament for the third year in a row," Coach Amey explained. "This is the moment we have prepared ourselves for all season."
"These teams are going to be better than most teams in the country and we are going to have to fight that much harder. It doesn't matter if you're tired or hurt, you have to put everything on the line or you lose the chance of a lifetime." Emington said. "We are not going to get second place, this year we are going to bring home a championship!"
All games are available to watch online through NJCAA TV. Keep up to date on tournament news and photos on the NJCAA Division III Women's Soccer Championship page on Facebook and on Twitter at NJCAA Soccer and TCPanthers.
local coverage of the team
MLive – November 14, 2019
Delta College's top-rung talent making climb toward national championship
Midland Daily News – November 8, 2019
Delta women's soccer team headed to nationals next week