Delta College Welcomes New Athletic Director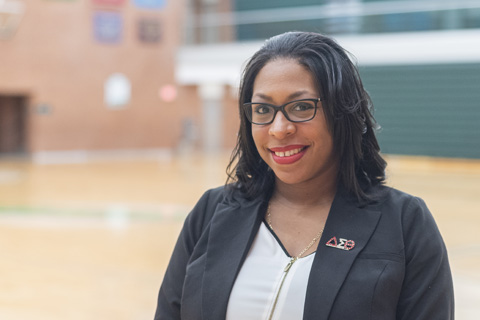 January 10, 2019
Delta College recently hired Michigan native, Dionne McCollum, as the new Director of Athletics and Student Athlete Development.
"I am a native of Detroit, so taking this position here at Delta College was coming home for me," says McCollum. "I have a special place in my heart for junior college athletics."
McCollum, built her foundation in athletics at the junior college level while playing basketball for Wayne County Community College before launching into a career at a Division II university. With a strong athletic program and student-athlete support history, Delta College was the perfect fit for her.
"I'm extremely excited to begin working with the athletes of Delta College. It is a passion of mine to do everything in my power to aid in student growth and development and ensure that our student athletes leave Delta ready for the world," she said. "Having an impact on someone's life is priceless."
Before coming to Delta, McCollum served as the Athletic Director for the District of Columbia public school system in Washington, D.C. for six years. During her time in D.C. she oversaw four different sports and 140 coaches.
McCollum was also part of the women's basketball coaching staff at a NAIA Division II and NCAA Division I and II schools. She also taught Athletic Injury and Prevention courses as an adjunct professor and served as the Strength and Conditioning Coach for the Academy of Oak Park in Oak Park, Michigan. With all of this experience behind her, McCollum is set and ready to begin her new journey at Delta.
"My ultimate goal is to impact as many lives as possible. Student athletes, faculty and staff, general student body and the community – through Pioneer Athletics," says McCollum. "It's not about the recognition one receives, the real reward is the success of those we come in contact with."