Delta College Welcomed Community at Downtown Saginaw Center Open House
June 23, 2019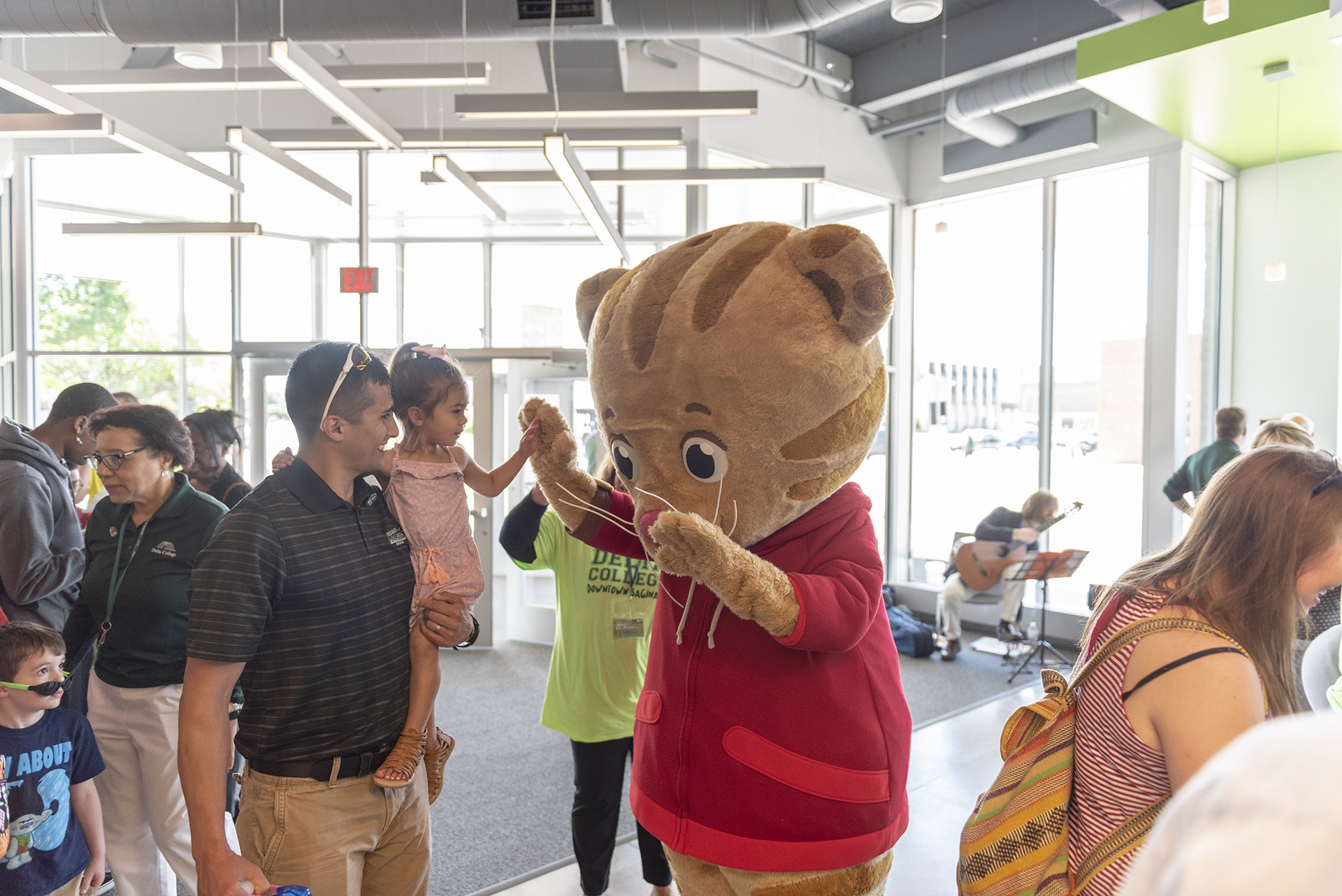 Delta College welcomed the community at the Downtown Saginaw Center Open House on Saturday, June 22 at 319 East Genesee Avenue in Saginaw.
This free event was an opportunity for the whole family to celebrate, explore and learn. Celebration activities included bounce houses, games, PBS characters Peg + Cat and Daniel Tiger, refreshments, prizes and giveaways.
With a focus on learning, children enjoyed a Dr. Slime science show, participated in hands-on activities in the STEM Explorer mobile science lab and discovered more about our universe with a Delta Planetarium demonstration. Adults learned about the Downtown Saginaw Center's certificate and associate degree programs, scheduled career exploration sessions and talked with admission representatives.
"Higher education should be as convenient as possible, which is why we are in downtown Saginaw," said Dr. Jean Goodnow, Delta College President. "I'm so excited to have had the community come down to visit and see Delta's phenomenal facility. From our three Downtown Centers to our main campus, our entire staff is committed to providing everyone with the education they deserve on their life's journey."

Open for Classes in August
The site location will serve the educational needs of students from the city and surrounding Saginaw County with eight certificate and associate programs: Clinical Medical Assistant, Criminal Justice – Loss Prevention Specialist, Fire Science Technology, Health Foundations, Office Professions, Youth Services, Associate of Arts and Michigan Transfer Agreement. Classes at the Downtown Saginaw Center will begin on Monday, August 26.
The Center features state-of-the-art technology, special use training rooms, a science lab and full access to all student services. By locating in the heart of downtown, Delta will be able to strengthen its ability to deliver the highest caliber of college instruction and workforce training, close to those in need of higher education.
Your City. Your College.
Delta College has educated students in the Saginaw community for decades in area high schools and community centers. The most prominent were the First Ward Community Center, International Center and Ricker Center.
"Delta's Board of Trustees has always been committed to providing local citizens with a top quality college education," said the Rev. Dr. Bob Emich, who was first elected to the board in 1993.
"I believe the Downtown Saginaw Center will continue to make good on that pledge for the 40 percent of Delta's students who live in Saginaw County, and those from the surrounding areas."
Other Downtown Activities
Joining Delta College in the celebration was other key downtown facilities. The weekend marked the first anniversary of the SVRC Marketplace, located at 203 South Washington, with a variety of activities planned. The Castle Museum offered free admission for the day and the Hoyt Library welcomed children, families and comminity members to explore their genealogy. Downtown visitors were able to hop on a free STARS shuttle that will run between Delta College, SVRC Marketplace, Hoyt Library and the Castle Museum.
Building Highlights
Construction of the new 35,000 square foot facility began in April 2018. The total Downtown Saginaw Center project budget was $12.7 million with half coming from the State of Michigan and the other half coming from Delta College savings, which were set aside for this project.
The property for the new Downtown Saginaw Center was purchased from the City of Saginaw. While located in the downtown area, the Center can be easily reached by everyone in Saginaw County and beyond via I-675, M-81 and M-46. Delta is projecting initial enrollment of 500 students, which could grow to 1,000 students within a few years.
"This investment in current and future students living and working in Saginaw County will increase their level of access to higher education," said Goodnow. "The new Downtown Saginaw Center will create a pathway for more residents to enter the career pipeline.
Delta College would like to thank all Saginaw business and government leaders for their support as we pursued this goal," she added. "I'd like to recognize Tim Morales, Saginaw City Manager, as well as state leaders Senator Ken Horn and Representative Vanessa Guerra for their assistance with this project."
The construction project manager was Spence Brothers Construction and the architectural firm was WTA Architects. Both firms are headquartered in Saginaw.
Another Center on the Way
In addition to Downton Saginaw, Delta College offers close-to-home educational classes in Midland and Bay City. With a groundbreaking earlier this year, construction will soon begin on a new Delta College Downtown Midland Center on at 419 East Ellsworth St. The building is scheduled to open in fall 2020. Construction is estimated to cost $13 million, with over $9 million provided by community donors.