Enroll now to take classes at the Downtown Saginaw Center
June 25, 2019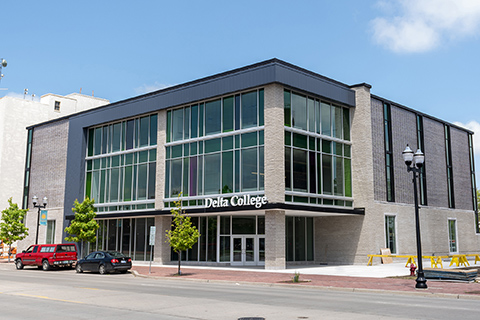 If you'd like to be one of the first group of students to attend classes at Delta's new Downtown Saginaw Center, attend one of these enrollment sessions and we'll help you complete the steps to become a college student. You could start taking classes as early as August!
Free enrollment sessions will be held:
July 9, 1-4pm
August 13, 1-4pm
September 10, 1-4pm
Or, visit us anytime to get started!
(photo ID required, 2017 tax returns suggested)
Topics covered include how to register, how to apply for financial aid and how to create a class schedule. Anyone with a high school diploma or GED is eligible to take classes at Delta College.
your city. your college.
Conveniently located at 319 E. Genesee St., the Center offers eight certificate and associate's degree programs: Clinical Medical Assistant, Criminal Justice – Loss Prevention Specialist, Fire Science Technology, Health Foundations, Office Professions, Youth Services, Associate of Arts and Michigan Transfer Agreement.
By locating in the heart of downtown, Delta is strengthening its ability to deliver a high caliber of college instruction and workforce training, close to those in need of higher education. According to the U.S. Census Bureau, a person in the Great Lakes Bay Region with an associate's degree makes on average 20 percent more than someone with a high school diploma. And jobs requiring a college education are growing two times faster than those that don't.
The Downtown Saginaw Center features state-of-the-art technology, special use training rooms, a science lab and full access to all student services. Plus, going to Delta will cost you less than half the cost of attending a public university, and has the convenience of smaller class sizes allowing you to connect more with your professors and fellow classmates.
Don't wait! Classes begin on Monday, August 26.
Visit us
Delta College Downtown Saginaw Center
delta.edu/downtownsaginaw
319 East Genesee Avenue
989-752-7500
saginawcenter@delta.edu