Delta's diversity director to receive Spirit of MLK Award
January 2, 2020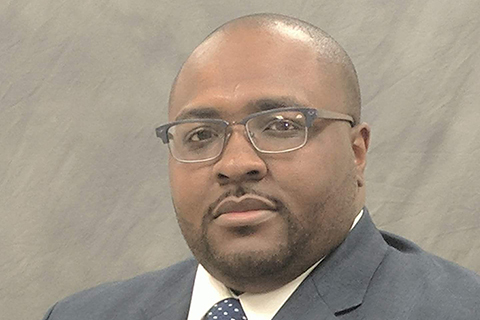 Carlos McMath, director of diversity and inclusion for Delta College, has been named the 2020 recipient of the Spirit of Martin Luther King, Jr. Award.
McMath will receive the award at the 24th Annual Martin Luther King, Jr. Unity Luncheon on January 20 at the Dow Event Center in Saginaw. The unity march will take place at 10am at Franklin and Hayden streets, a luncheon will follow at 11am.
"I know how much this award means to the community," McMath said. "Just saying I have Dr. King's spirit, or do anything like him, is very humbling and pays tribute to the way I was raised."
McMath, a native of Saginaw, graduated from Arthur Hill High School. He earned a bachelor's degree in communications from Wayne State University and a law degree from Michigan State University. Before becoming director of diversity and inclusion, he was the college's student diversity and leadership coordinator.
McMath is also head coach of the men's basketball team; he joined Delta College in 2014 as assistant coach. He led the team to its first District 10 Championship, and in 2017, the team made it to the Final Four appearance at the NJCAA DIII National Tournament. He has also been named Coach of the Year.
He is founder and owner of NextPlay Consulting LLC, a leadership development consultancy, and co-hosts a podcast of the same name. He lives in Saginaw with his wife, Asheley McMath, and enjoys mentoring Delta students.
The award is presented by Delta's Black Faculty and Staff Association (BFSA) and the Saginaw chapter of Alpha Phi Alpha, of which Dr. King was a member. Each year, BFSA members select an employee whose service to the institution and community exemplifies the spirit of Dr. King's work and values.
"Carlos has been instrumental and a tremendous asset to the creation and success of the diversity and inclusion program at Delta College," said Veronica Bond, business services specialist for Delta and BFSA member. "He is a loyal, honest, considerate and supportive individual who has the ability to see and understand things from different perspectives. Carlos is well deserving of this honor and truly embodies the life and legacy of Dr. Martin Luther King, Jr."
Past Award Recipients
2019 – John Neal
2018 – Veronica Bond
2017 – Monica Hernandez-Alaniz
2016 – Rosemary Reeves
2015 – Dr. Linda Holoman
2014 – Dr. Charissa Urbano
2013 – Carl Ruth
2012 – Beverly Westbrook
2011 – Mary Beth Looby
2010 – Dr. Jean Goodnow
2009 – William E. Ketchum, Jr.
2008 – Teresa Stitt
2007 – Katrina Nichols
2006 – Joan Sabourin
2005 – Jack Crowell
2004 – Neville Britto
2003 – John Pugh
2002 – Willie Thompson
2001 – Dr. Betty Jones
Written by Leah Twilley, Communications Specialist.