National Ranking for Sustainability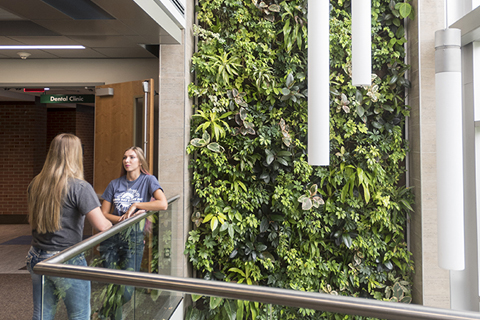 The 2018 Sustainable Campus Index, published by the Association for the Advancement of Sustainability in Higher Education (AASHE), has recognized Delta College as a top performer in sustainability. In fact, Delta College ranked fifth in nation in the community college category.
"I'm very proud of this recognition for Delta College," said Dr. Jean Goodnow, President. "I thank our students and faculty and staff – including project leaders Janis Kendziorski, Academic Sustainability Coordinator and Linda Petee, Facilities Management Sustainability Coordinator -- for their continued efforts to advance sustainability in the classroom, on our campus and in the community."
Results are based on 477 self-submitted reports to the Sustainability Tracking, Assessment & Rating System (STARS). Institutions' sustainability efforts are evaluated in 17 areas within academics, engagement, operations, and planning and administration.
In the category of Associate Colleges (two-year colleges), the top institutions are:
Nova Scotia Community College, Dartmouth, Nova Scotia
Portland Community College, Portland, Oregon
Mohawk College, Hamilton, Ontario
Fleming College, Peterborough, Ontario
Delta College, University Center, Michigan
"I think one of the main reasons Delta did so well in the ranking is because we work collaboratively across the college," said Linda Petee, Sustainability & Risk Management Coordinator. "It's not just one group. Faculty have integrated sustainability themes in their curriculum, and have joined with the Facilities and Administrative Services departments on a variety of other initiatives."
Specific areas where Delta College earned points toward this ranking are as follows:
Living wall and using the campus as a living lab
Sustainability incorporated into study abroad
Percent of total courses that are sustainability-related
Sustainability websites for faculty/staff and for the public/students
Student sustainability reps engaged in outreach
Power of a Single Action campaign
Rethink your Drink (water refill stations)
Volunteer/ intern opportunities in sustainability
Community partnerships
Sustainable dining
Sustainable procurement, including electronics purchasing
Cleaning/janitorial purchasing
Waste minimization & diversion, including hazardous waste management
Rainwater management
Wellness program
The report indicates that 906 STARS reports were submitted by 477 institutions in 11 countries, including community colleges, 4-year institutions, and advanced degree-granting institutions.