Become a Physical Therapist Assistant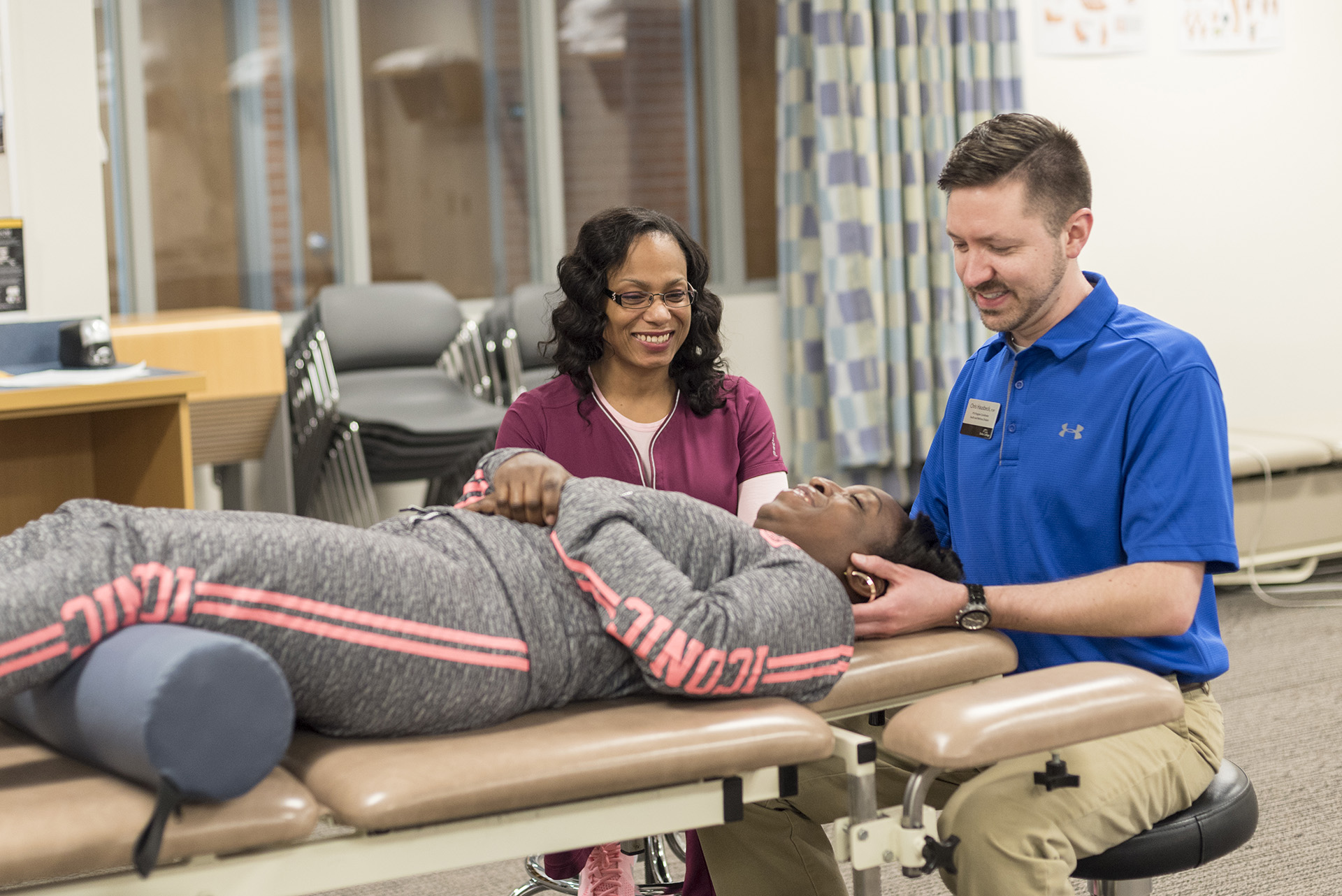 June 12, 2018
Physical therapist assistant is currently one of the fastest growing career fields in Michigan – 29 percent over the next 10 years according to Michigan DTMB. A physical therapist assistant (PTA) works under the supervision of physical therapist, helping patients recover from injuries and illnesses, regain movement and manage pain. With 100 percent of graduates being currently employed and passing their national license exam, Delta is a great place to pursue your degree and career as a physical therapist assistant.
"Area employers consistently report that they prefer to hire Delta PTA grads over PTA grads from other institutions," says Dr. Chris Hausbeck, the Coordinator of the Physical Therapist Assistant program at Delta College.
The program at Delta, which was formed in 1976 making it the second oldest in Michigan, is a four-semester long cohort program, where you come in with a group and experience classes together from your first semester to your last. After a $20 million renovation of Delta's health wing, the PTA program will provide you with the opportunity to work with cutting-edge technology and equipment that will help you to hit the ground running in the PTA field when you graduate.
"Delta's program offers PTA courses that many other programs don't have, including courses in pediatric rehabilitation, evidence-based practice and manual therapy techniques," says Dr. Hausbeck. "Students can expect to gain employability skills and professional confidence, make lifelong friendships and receive extensive preparation for their licensure examination."
The Physical Therapist Assistant program at Delta College is recognized by the Commission on Accreditation in Physical Therapy Education (CAPTE). There is also a PTA student club here at Delta that is involved with the community with several different projects and professional involvement. Plus, students and faculty are actively involved with the Michigan Physical Therapist Association and the American Physical Therapist Association.
Delta's PTA Options
Delta College offers many different possible PTA paths for you to take outside of earning an associate's. Delta offers two different dual degree programs with PTA where you can earn a dual associate degree in Health Fitness Specialist with PTA and General Management, which gives you a business background. Both dual degree programs will provide you with valuable additional skills, which will help you to increase your earning potential. Along with the dual degree, Delta also has transfer options in the program to help you continue your studies in the field and earn your bachelor's degree.
"To ensure excellence with learning hands-on skills, Delta's program offers students the maximum number of clinical education hours allowed by accreditation," says Dr. Hausbeck. Students at Delta have more than 100 clinical sites to choose from, allowing students to find the right fit for them. The clinical opportunities give students real-life, hands-on experiences with patients that will help students build their career before it begins.
Find Out More
Learn more about Delta's Physical Therapist Assistant (PTA) program or contact Dr. Chris Hausbeck, PTA Program Coordinator, at christopherhausbeck@delta.edu or 989-686-9316 with questions.