Collegiate Brings Home 11 Awards
April 12, 2018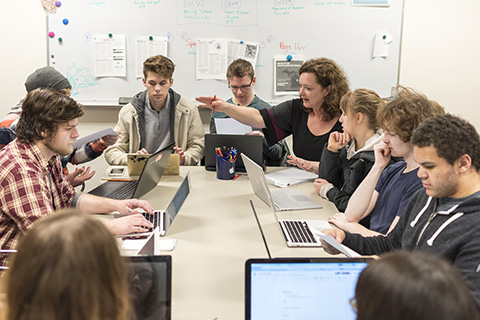 The Delta Collegiate staff was honored with 11 combined awards at the annual Michigan Community College Press Association luncheon and conference at Central Michigan University earlier this month.
Since the annual conference was introduced in 2013, the Delta Collegiate has received more than 75 recognitions for journalism and media accomplishments. This year's awards include five first place honors.
Students interested in joining the staff of the Collegiate can contact Crystal McMorris at crystalmcmorris@delta.edu for more information.
Award Winners
News Story – First Place
"Faculty furious about president's policy change" by Jessica Sierocki
In-Depth Enterprise Reporting – Third Place
"FOIA reveals more information on false rape case" by Aubrie Smith
First Amendment Reporting – First Place
"Kneeling can only last so long" by Joe Thornton
Sports Feature Story – Honorable Mention
"Chemical City Derby Girls host scrimmage" by Allie Keenan
Sports Column – First Place
"Should coaches make more than your governor?" by Ethan Moore
Feature Photo – Second Place
"Casey Robertson" by Tylla Hahn
Sports New Photo – Second Place
"Delta Pioneers women's soccer" by Tylla Hahn
Multimedia Reporting – First Place
"Snowfest brings business to Frankenmuth" by Joe Thornton
Photos by Jaylie Dice
Video by Kevin Lazzaro
Multimedia Reporting – Second Place (Tie)
"Delta student takes top 10 in statewide barrel racing" by Jessica Sierocki
Photos by Tylla Hahn
Multimedia Reporting – Second Place (Tie)
"Lady Pioneers gain momentum near playoffs" by Joe Thornton
Video by Kevin Lazzaro
News Website – First Place
Delta Collegiate