New Delta College Saginaw Center Moves Forward
August 9, 2017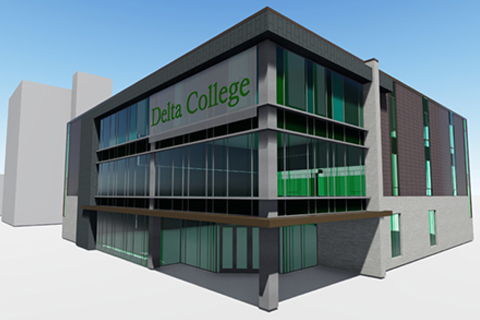 Delta College will soon have a new home in downtown Saginaw as plans move forward for a 35,000 square foot building.

Delta College received construction authorization in the 2018 fiscal year budget for the State of Michigan, signed in July by Governor Snyder. The total Saginaw Center project budget is $12.7 million with a 50/50 funding split between the State of Michigan and Delta.

The site location is in the 300 block of East Genesee Avenue (at Franklin, Tuscola and Baum) to serve the educational needs of students from the city and surrounding Saginaw County.
The Saginaw Center is expected to open in August 2019. It will replace Delta's Ricker Center in Buena Vista Township which will remain open until that time.

Currently, Delta College offers close-to-home educational classes at three off-campus centers - Saginaw Ricker Center, Midland Center and Bay City Planetarium - for many students making their first strides into post-secondary education. In the off-campus environment, many first generation students find success, which can lead to a continuing cycle of education and employment opportunities.
"This investment in current and future students living and working in Saginaw County will increase their level of access to higher education," said Dr. Jean Goodnow, Delta College President. "The new Saginaw Center will create a pathway for more residents to enter the career pipeline."

"Delta College would like to thank all Saginaw business and government leaders including Tim Morales, Saginaw City Manager, as well as state leaders Senator Ken Horn and Representative Vanessa Guerra for their support and assistance with this project," added Goodnow.

The proposed Saginaw Center will include state-of-the-art technology, special use training rooms and science labs to strengthen Delta's ability to deliver the highest caliber of college instruction and workforce training.

Collaboration is an important element in this project. For that reason, Delta College is planning meetings this fall to update the community and offer an opportunity for further input.

"Since 1961 when we opened, Delta's Board of Trustees have always been committed to providing local citizens with a college education that's affordable, top-quality and easy to access. I believe this downtown Saginaw Center will continue to make good on that pledge," said the Rev. Dr. Bob Emich, Delta College Board Chair.

Students can get started now. Delta is offering courses that will lead to degrees in business management, criminal justice loss prevention and social work. Students can begin those programs at the Saginaw Ricker Center and transition to the new center when it opens. Dual enrollment and additional career and transfer options are anticipated to be offered as well when the center opens.