Delta Was the Perfect Vehicle to Work Toward an Automotive Career
For most people, seeing a vehicle's "check engine" light turn on is an instant headache. Nathan is not most people.
"I find it a lot of fun," he says. "I like figuring out what the failure might be through a diagnostic process."
Nathan and his classmates at Delta College even "bug" vehicles deliberately, challenging each other to diagnose and solve an electrical problem. It's just one of the many hands-on aspects of his training through Delta's General Motors Automotive Service Education Program (GM ASEP) – he's preparing to be an auto technician.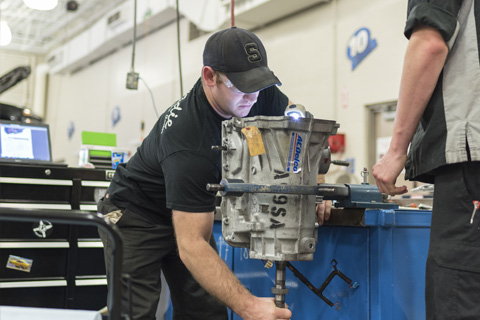 Those hands-on experiences are what Nathan enjoys the most and finds especially valuable. He's been drawn to that type of work since his childhood, when his father worked on old vehicles.
"He had a hobby of working on cars from the 1920s and 1930s, like Model As, Model Ts," he says. "That really got me into tearing things apart and putting them back together, seeing how they work."
After high school and some college experience, Nathan worked for a company contracted by General Motors and developed an interest in GM vehicles. The GM ASEP – a program designed to help bring young talent into the automotive field – was the perfect fit for him at Delta College.
Getting ready with hands-on experience
Now, Nathan is getting on-the-job training at a nearby GM dealership that has sponsored him, while he takes classes and works on vehicles at Delta. He's also in line for a potential position at the dealership after graduating with his associate's degree.
"This program helped me get my foot in the door," he says. "It's easier than walking in off the street and saying 'I need a job.' And you're seeing real-life situations and customers, which is important."
"This program helped me get my foot in the door [with a dealership]. It's easier than walking in off the street and saying 'I need a job.'"
Nathan Keech
Delta College

General Motors Automotive Service Educational Program (ASEP)

Student

While Nathan had some reservations about returning to school, Delta made it easy.
"A lot of my past credits transferred in," he says. "And the instructors have been great. I've really enjoyed my time here."
On the edge of starting a career that will bring him fulfillment and stability, Nathan feels he made the right choice attending Delta. And since vehicles will always have "bugs" that need to be fixed, his services will be in demand.
Are you interested in pursuing an automotive career? Delta College is the perfect place to start. Apply now.