Delta Fit Her Life
From the time she was a little girl "playing secretary" on the floor of her grandparents' house, Kimberly knew she wanted to work in an office. After attending Delta College, she is making it happen. Just a little later than she expected.
After a start at a four-year university and another brief return to another community college, life happened and Kimberly went to work full-time and started a family. But the desire was still there, and eventually she decided the time was right to try Delta.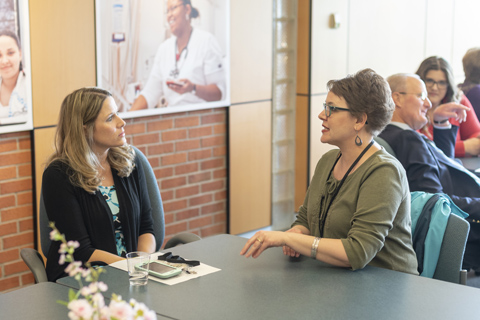 "Starting back after 20 years was nerve wracking," Kimberly admitted. "Coming back was, can I do this? Is this really going to work? Or is it going to be a waste of money because I can't juggle everything? Delta helped me realize with the flexibility of their scheduling and the online classes, it was totally doable."
Again and again throughout her experience at Delta, Kimberly found it was the people who were willing to help that contributed most to her success.
"Everyone was super helpful and I felt right at ease, right away from registration, to the counselors, to financial aid," she said. "Everyone was very supportive and didn't look at me like I was some old lady. The professors are there for you in your academic pursuit, as well as your family life. They will stay after class, they will come early to meet with you."
Juggling Act
As a working mom, getting an education while balancing her family obligations and her job as an elementary school paraprofessional wasn't always easy. Delta helped her keep her life on track and her expenses down.
"I chose Delta because of the affordability and the program I wanted and it was flexible with my schedule," said Kimberly, adding she appreciated the convenience of online courses considering her lengthy commute from Vassar to Delta's main campus. "With two kids involved with their own school and sports, Delta has just been a really convenient place for me to further my education and get what I need."
"Delta is friendly, affordable, and wants to see you succeed."
Kimberly Wegryzn
Delta Graduate, Administrative Assistant
Office Administration & Technology – Delta College Award Winner
Kimberly finished her program in three years by attending half-time each semester.
"It was a very long journey, but worth it. And Delta made it possible."
Are you interested in starting a career as an office professional? Delta College is the perfect place to start. Apply now.