Bringing Great Care to the Dentist Chair
If given a choice, most kids would spend their time at the playground, the swimming pool or the zoo.
Jessica was a little different.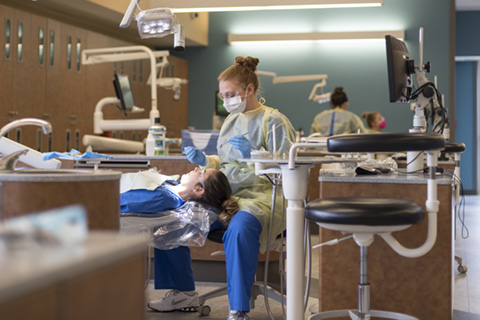 "I always loved going to the dentist, I would've gone every month if I could," Jessica says. "They always made me feel welcome and comfortable. I never had a bad experience there."
Jessica was a natural fit for dental assisting – a position that supports the dentist and performs other duties related to dental care. After being introduced to the profession by someone she met in the field, she looked into Delta College's dental assisting program.
"The dental clinic was brand new when I toured it," she says. "Seeing all the new technology inspired me to pursue my career even more."
Now part of the program at Delta, Jessica is immersed in the type of hands-on learning she thrives in. She works with dental mannequins ("Dexters") that let students practice real-world situations, and she observes different office settings.
Finding support along the way
The small class sizes and helpful faculty members have helped made Jessica's training a piece of cake, or as Jessica would say, like "going to the dentist."
Her instructors were right there for her whenever she struggled, such as the first time she took dental impressions. So when she was able to practice charting with a real patient, she felt ready.
"I was a little nervous, but as I went along, it just came to me," she says. "It felt good."
Jessica has also taken advantage of other Delta resources, such as the WRIT center, where she receives helpful feedback on her class papers and essays. She's confident that she'll be able to step into a career once she's earned her advanced certificate and becomes a registered dental assistant (RDA).
"I want to provide a great experience to my dental patients. People shouldn't be afraid to go. It's not a bad place!"
Jessica Sherwood
Delta College Dental Assisting student
"There are so many openings everywhere, dentists are always looking for RDAs," says Jessica.
She wants to stay close to home, in the Midland area. And she hopes to help make the dentist office she eventually works at the same kind of comfortable environment she's always loved.
"I want to provide a great experience to my dental patients," she says. "People shouldn't be afraid to go. It's not a bad place!"
Are you interested in pursuing a career in dental assisting? Delta College is the perfect place to start. Apply now.