Finding a Second Family and a Future at Delta
One of four children of a GM factory worker, who was always in fear of being laid off, Jessica knew she wanted a degree of some sort to ensure a stable career. But she had no idea what she wanted to do when she first came to Delta College.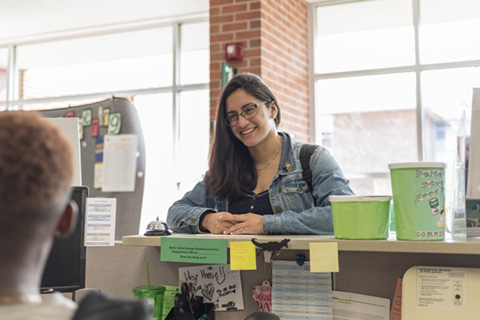 Soon after enrolling, the world of possibilities opened up for her. And not just in the classroom.
First, she was invited to join the Society of Hispanic Leaders, a student club, where she met a new group of friends and experienced new opportunities, such as attending a conference in Chicago and attending the Día de la Mujer (Day of the Woman) event in Lansing.
"I'm kind of like a really timid kind of person if I don't know you," Jessica says. "But being part of SOHL was basically like coming into a family."
Soon she joined other student organizations, as well, such as Delta's Student Leadership Academy and Club Advisory Board, where she served as president.
"One of the things that I've gained from it is being a leader," she says. "Taking those steps and gathering people to come together and really be organized."
Those skills will come in handy at SVSU, where she is transferring, to complete her bachelor's degree in post-secondary education. She hopes to teach history someday, a subject that truly came alive for her at Delta in the classroom of history professor Amy French.
"She is one of my role models for being a teacher. It's really easy to focus and learn from her," Jessica says. "She wants the students to engage with her. And she wants them to understand the pain and the suffering of what people felt back in the civil rights era and all that."
Finding Her Focus
Jessica believes that Delta is a great place to start the college experience, especially if you aren't certain what kind of career is right for you.
"Here at Delta, you can take classes that might be something you never even thought of taking back in high school, or that wasn't available," she said. "It gives you the open window of anything, anything you want, you just have to figure it out. You just have to take the steps."
"What Delta teaches you is how to interact and be part of a community. Because being part of Delta is being part of a family, a giant family."
Jessica Fehrman
Delta College graduate, Associate of Arts
Transferred to SVSU to study post-secondary education

Jessica says she was "iffy" about the idea of teaching at first, but after working part time as a tutor at Delta, she began to see it as a natural fit for her.
"It's a great feeling to see them [her tutees] connect the dots, to say, 'Oh my gosh, I get it now,'" she says.
Are you interested in exploring new experiences and career opportunities? Delta College is the perfect place to start. Apply now.