Securing Our Online Data – and a Career in a Fast-Growing Field
"The Cyber Defense Club" might sound a bit like Hollywood's next futuristic blockbuster or superhero team flick. Something Estefan would probably watch – he's a big science fiction fan.
But it's a real club at Delta College. And it helps train Estefan to do something really important: prevent hackers from obtaining your personal information.
"When I first visited the club, people were plugging into each other's routers, seeing who could hack the other person first – it was a cool sight," Estefan says. "I not only joined the club, I volunteered to be their treasurer."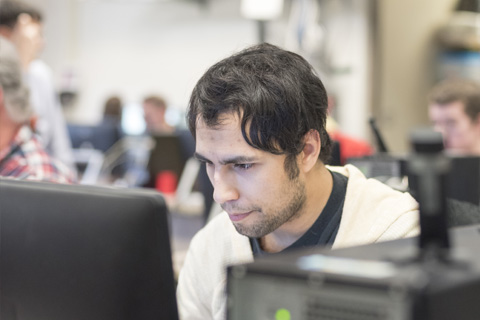 Estefan found the opportunity through his cybersecurity program at Delta, where he's working on an associate's degree. He knows the IT-related skills he's gaining, like setting up a system's firewall to block unauthorized access, are pretty mystifying to the average computer user.
"Cybersecurity is a necessary field, and I think everyone should have some form of that training," he says. "But a lot of people don't really go into it. It's a problem for companies."
Estefan believes healthcare providers are especially vulnerable. Ultimately, he wants to fill a cybersecurity role with a hospital and become an expert in his field. The odds are in his favor. He says that fewer than half the open positions in cybersecurity get filled each year.
From Playing Games to Protecting Our Information
Estefan was an avid video gamer growing up. In his late teens, he took a bigger interest in the computers that run those games.
"My computer was outdated, and my friends helped me build a new one so we could continue playing games," Estefan says. "As I built this computer, I thought, 'whoa, this stuff is really neat.' It was just breathtaking, and it clicked with me."
Delta's affordable tuition and flexible scheduling made it possible for Estefan to enter the cybersecurity program with a part-time job. He was initially overwhelmed. But now, he appreciates the learning process.
"It's like chess – when you start, you don't know what any of the pieces do, you don't get it, and the rules are hard," he says. "Then you start playing. You get better and better, and it makes sense."
"I think everyone should have some form of cybersecurity training. But people don't go into it. It's a problem for companies."
Estevan Cervantes
Future Cybersecurity Specialist

He's been helped by what he describes as "really solid" courses at Delta, along with software and hardware that simulate real-world situations.
"The teachers here are really, really good at what they do," he says. "Not just in networking and cybersecurity. I've had teachers in math and English who went out of their way to help me."
We may not live in a "Star Wars" universe just yet (Estefan loves the new films, by the way), but we still need people with high-tech skills to defend our society. Estefan is ready to be on the front line.
"There's so much private information out there that might not be adequately protected, and we don't even know it," he says. "I want to make people feel more secure about that."
Are you interested in pursuing a career in cybersecurity? Delta College is the perfect place to start. Apply now.