Building Her Future at Delta
Watching the new Delta College Downtown Saginaw Center rise from groundbreaking to completion has been extra special for Breanne Steep.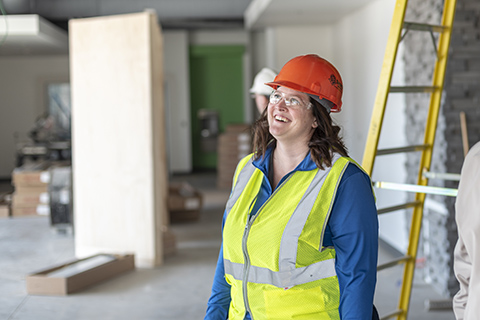 "Being an alumnus and being able to work on this building, it's incredible," said Breanne, who graduated with an associate's degree in Construction Management in 2007. "I have a lot of pride in what I do no matter what, but that makes it ten times more important for me. It's exciting to see how much Delta has grown since I was there with all these new centers. I can't wait to finish this one, because then we get to go on to the next one in Midland."
Now a construction manager at Spence Brothers, Breanne is putting what she learned at Delta to work every day.
"Delta College is a great place to be, a great place to learn," said Breanne, who originally came to Delta from Tawas to play volleyball. "The faculty, the students are wonderful and easy going."
Breanne credits her professors for taking the time to make sure she gained the knowledge she would need on the jobsite.
"Being able to go and talk to your professors, you didn't feel like you were asking a dumb question," she said. "They really took into consideration that you really needed help or you really had a true question and they took their time to meet with you and have those conversations, whether it was one-on-one or a group setting."
Making the Pieces Fit
Just as every construction takes time to do right, so too did Breanne's academic career. Her busy schedule meant it took her seven years to complete her degree, taking three or four credits each semester. But she did it.
"I managed going to school part-time and working full-time," said Breanne. "I ended up working about 60 hours a week full-time and then I would come to school at night and take classes from 6 to 10."
"Going to Delta with its very small atmosphere is perfect for people who aren't ready for that big, huge university. I thought I was ready for that university, but I wasn't."
Breanne Steep
Construction Management Graduate
Not only has Breanne turned her degree into a successful and rewarding career, she has the respect of her family for what she has achieved – and pride in herself.
"They never thought that I would get this far, I never thought I would get this far," she said. "I really never wanted to go to school, but then when I fell in love with the industry that I am in now, and it just made me want to go even further. My family is so proud of me and where I am today."
Are you interested in starting a career in construction management? Delta College is the perfect place to start. Apply now.