Civic Work Earns National Recognition
June 20, 2017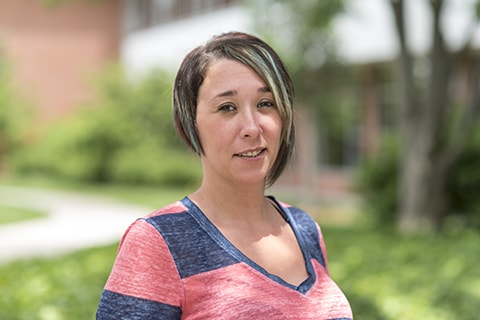 Delta College student Heather Bennett was recognized with the Bernie Ronan Award at the national Civic Learning and Democratic Engagement Meeting in Baltimore earlier in June. The conference was attended by more than 600 faculty, staff, students and administrators from across the county.
The Bernie Ronan award recognizes a student-initiated project that exemplifies democratic skills and capacities. Bernie Ronan was heralded as a champion of democratic education and he also co-founded The Democracy Commitment, a platform for the development and expansion of community college programs, projects and curricula aiming at engaging students in civic learning and democratic practice across the country.
The purpose of the Civic Learning and Democratic Engagement conference is advance the civic movement in higher education, providing attendees with tools to ensure that students graduate from our colleges and universities--both public and private--prepared to be the informed, engaged citizens that our communities and our democracy need.
Four Delta students attended the conference, but there are many more who are civically engaged, both in and outside of the classroom. In fact, nearly 350 students will take POL105 this fall, a class that requires a 15-hour civic engagement project.
"The Democracy Commitment is helping students become agents for positive change in their communities, not only by volunteering for organizations that address issues but by raising awareness of the social and political context of these issues and organizing others to address their root causes," said Lisa Lawrason, Political Science Professor and Democracy Commitment initiative advocate.
Delta College is an original signatory institution of The Democracy Commitment, which began in 2011 and now has more than 70 member institutions, 135 campuses in 24 states, serving more than 1 million students. The Democracy Commitment has been a springboard for numerous civic initiatives at Delta College, including Public Achievement, Race to College, Change Your World Week, The Human Library, voter registration drives and get-out-the-vote initiatives. This work seeks to transform students from being mere members of their community to being active citizens, where they seek to address root causes of issues and make their community a priority in their daily life choices.