Delta College Announces Saginaw Center Groundbreaking
March 7, 2018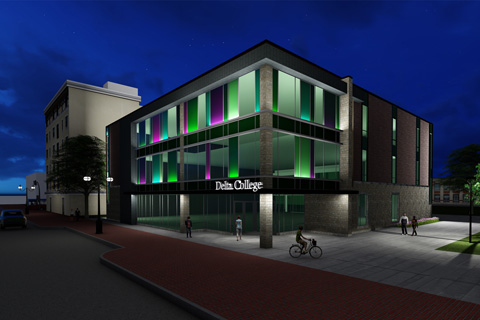 A groundbreaking ceremony, celebrating the launch of construction of the new Delta College Saginaw Center, will be held on Monday, March 26 at 3pm. The learning center will be located at 319 East Genesee Avenue in downtown Saginaw.
The $12.2 million capital construction project is made possible through partial funding from the state of Michigan, as well as Delta College's Plant Fund reserves. The property for the new Saginaw Center was purchased from the City of Saginaw.
Construction will begin immediately with the new three story, 35,000 square foot building anticipated to be occupied by June 2019, with the first classes being offered in the fall 2019 semester.
The construction project manager is Spence Brothers Construction and the architectural firm is WTA Architects. Both firms are headquartered in Saginaw, Michigan.