Groundbreaking Ceremony Held for New Saginaw Center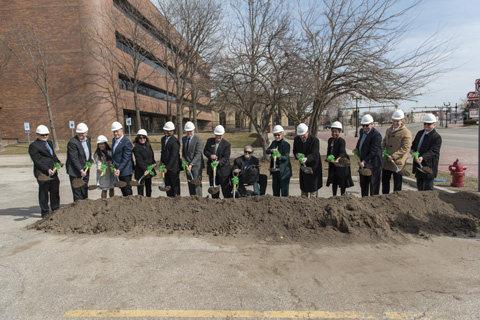 March 26, 2018
The launch of construction on the new Delta College Saginaw Center took place Monday, March 26, with a groundbreaking ceremony at the construction site in Downtown Saginaw.
Speakers included, Dr. Jean Goodnow, President of Delta College, Senator Ken Horn, Representative Vanessa Guerra, Mayor Dennis Browning, Representative Dan Kildee, and Rev. Dr. Robert Emrich, Delta College Board of Trustees Chair.
dignitaries involved in the ceremonial groundbreaking
Nick Bovid – Delta College Director of Facilities
Senator Ken Horn – State of Michigan - 32nd District
Representative Vanessa Guerra – State of

Michigan - 95th District

Representative Dan Kildee – U.S. Congress - Michigan 5th District
JoAnn Crary – President of Saginaw Future
Andre Buckley – Delta College Trustee
Tim Morales – Saginaw City Manager
Dennis Browning – Mayor, City of Saginaw
Earl Selby - Delta College Trustee
Dr. Jean Goodnow – President of Delta College
Rev. Dr. Robert Emrich – Delta College Chair & Saginaw Trustee
Karen Lawrence-Webster – Delta College Trustee
Herb Spence – Spence Brothers Construction
Michael Nash – Delta College Trustee
Bob Van Deventer – Saginaw Chamber of Commerce
"We're very excited to begin construction of this building," said Dr. Jean Goodnow, Delta College President. "By investing in a new Saginaw Center, we are planning for the next two or three decades of education and service to this community."
Construction will begin immediately with the new three story, 35,000 square foot building anticipated to be occupied by June 2019, with the first classes being offered in the fall 2019 semester. After a few years of incremental growth, it is projected that 1,100 students could attend the Saginaw Center annually.
The College is seeking LEED® (Leadership in Energy & Environmental Design) certification by designing, constructing, and operating the new center to meet measurements of sustainability for high performance in human and environmental health. This includes sustainable site development, water savings, energy efficiency, materials selection and indoor environmental quality.
The $12.74 million capital construction project is made possible through partial funding from the state of Michigan, as well as Delta College's Plant Fund reserves. The property for the new Saginaw Center was purchased from the City of Saginaw. While located in the Downtown area, the Center will be within easy access for everyone in Saginaw County and beyond.