Peatross Appointed to Board
July 17, 2018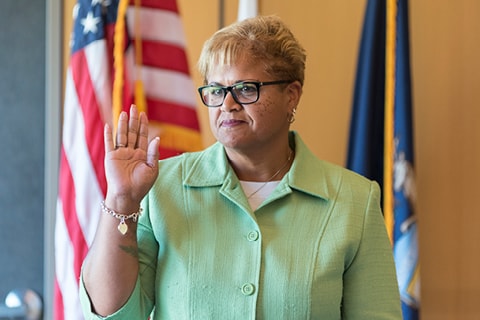 The Delta College Board of Trustees has announced the appointment of its newest Saginaw County Trustee. Kelley A. Peatross, Ph.D., has been appointed by the Board to fill the vacant term of R. Earl Selby, who resigned in June after serving as a Trustee for 26 years.
The Board's Vacancy Committee interviewed eight candidates and recommended Peatross at a Special Board Meeting on July 17, where she was confirmed.
"I join the Board of Trustees already believing that the future of Michigan is inextricably linked to education," Peatross said. "Today, it is even clearer to me that the key to growing Michigan's population, creating good-paying jobs, increasing family incomes and improving the quality of life in our state, is through a sound educational system that extends from the earliest days of a child's life and continuing throughout our lives."
Peatross is the Regional Manager for the Governmental Regulatory & Public Affairs Division at Consumers Energy. She formerly worked in education in several administrative roles for public school systems, and is a member of numerous local and regional boards.
"Having served others and worked in the private sector, state government and the K-12 public school setting in various administrative positions collectively, for more than 30 years, I am ready to expand my servant leadership in the area of higher education," said Peatross.
The appointment term expires in December. Peatross will run for election to the Delta College Board of Trustees on the November ballot.