Traveling the World to help Others
October 2, 2018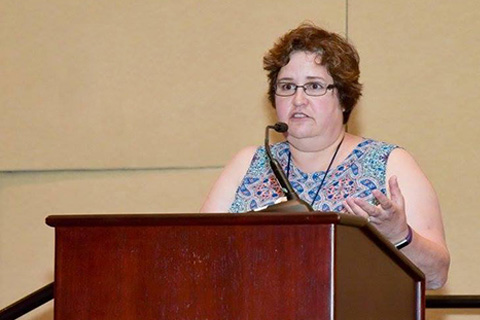 Dr. Nancy Hartshorne has been a psychology professor at Delta for nine years. This past summer, she and her husband traveled to Australia and Germany to work with physicians, teaching staff and families of children with CHARGE syndrome. Providing training, education and consultation for them.
CHARGE Syndrome is a congenital syndrome resulting in multisensory impairments, such as deaf-blindness. CHARGE stands for coloboma or eye abnormality, heart defect, atresia choanae (disorder that blocks one or both nasal passages), restricted growth and development, genital abnormality and ear abnormality.
"In Australia and Germany, my husband and I did presentations," said Dr. Hartshorne. "Something that is really unique about CHARGE Syndrome is that when people have conferences you bring professionals and families together and it becomes kind of a big family."
In Germany for example, after giving a presentation Dr. Hartshorne got together with a group of professionals and conducted 30-minute consultations with families. Here, the families could ask questions and present their problems to the group. After talking with the families they would walk away with answers to their questions and good ideas to solve their problems.
"It was really fun," said Hartshorne. "The consultations were new and different. You can't solve all of the problems in 30 minutes, but we could give families good and helpful ideas."
Dr. Hartshorne didn't stop with presentations. She also traveled to Boston to provide evaluation and psychoeducational services to Perkins School for the Blind's Deafblind program last winter.
"They lost their school psychologist, she retired two years ago. So, last year, since I'm a nationally certified school psychologist, they asked me to come in and do evaluations of some of their CHARGE Syndrome kids," said Hartshorne.
Students at the school have to be evaluated every three years according to Special Ed Law. They have to have assessments done on them and educationally decide what's best for them every three years.
"I've done a two-day training on that at Perkins and they are going to implement it for every child in their school, not just deafblind," said Hartshorne.
At Perkins, she made educational and behavioral guidance for five students and organized person-centered plans. "Person-centered planning is when you bring people together around someone with a disability and try to help plan their life with them. We actually work with the people who love the person," said Hartshorne.
She further provided a two-day train-the-trainer workshop in July, on person-centered planning. Dr. Hartshorne will return to the school in November to conduct a person-centered plan that will be filmed with a family and then teach an online class.
A Personal Connection
Dr. Hartshorne's work with CHARGE Syndrome was influenced by her son, Jacob, who also has CHARGE Syndrome. "He is 29 years old and lives in his own home with twenty-four seven care," said Hartshorne. "Every time I go to one of these conferences I learn something new that's helpful for my situation with my son."
By going to these conferences and working with her son, Dr. Hartshorne says that it has helped make her more compassionate toward students and enriches her lectures. She and her husband have been involved with the German, Australasian and United States CHARGE syndrome foundations for some time and have been heavily involved in a project that involves collecting grants for technical assistance for deafblind children in Michigan schools.
"The first half of my life was spent helping my son and then I started moving more and more into helping others with his problems," said Hartshorne.