Planning for Delta College Midland Center Moves Forward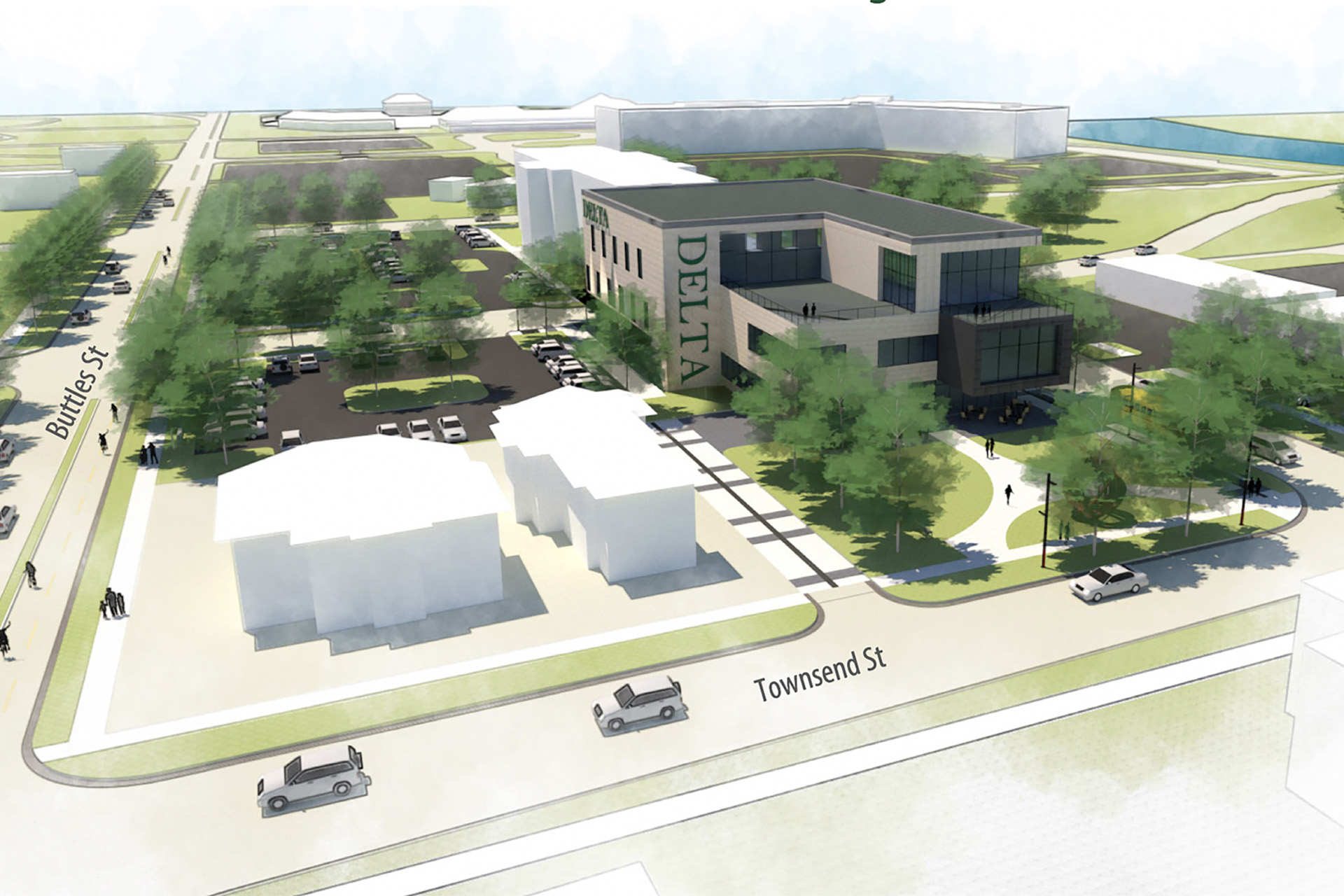 August 14, 2018
At its meeting on August 14, the Delta College Board of Trustees approved the site selection of a block bounded by Ellsworth, Townsend, Buttles and Cronkright, for its new Midland Center.
The property was owned by Chemical Bank and The Dow Chemical Company. Both organizations donated their property to the College after learning of Delta's interest in the specific site.
Chemical Bank has a long history of supporting projects and activities that significantly impact Delta College and its students. "Delta enjoys a good reputation with so many parents and students," said Bob Rathbun, Executive Vice President and Chemical Bank East Region President. "As Chemical Bank continues its support of the region, we wanted to be sure Delta College had the best location for this new building. We're proud we could step forward to make this project happen."
A smaller portion of the property was owned and donated to Delta College by The Dow Chemical Company. "We are very excited to see Delta College added to the ongoing community development landscape of downtown Midland," said Rob Vallentine, president of The Dow Chemical Company Foundation and director of Global Citizenship. "This collaboration is helping cultivate a robust manufacturing workforce pipeline for our future."
The land donations have allowed all other dollars to be invested in the building itself. "We're so thankful for their generous contributions," said Dr. Robert Emrich, Chair of the Delta College Board of Trustees, who voted to accept the donation. "The show of support from the Midland community for this building project," Emrich said, "has been overwhelmingly positive."
Although done fairly quickly, the site selection adhered to a rigorous process. Following identification of Delta College's facility needs, as well as a comprehensive review of Midland area properties, several candidate sites were identified. But, after review of a long list of criteria assigned by the Delta College Board of Trustees, the final location was selected. Evaluation was completed with the help of Momentum Midland, an initiative of the Michigan Baseball Foundation focused on increased vibrancy and economic development in and around downtown Midland.
The Building
Currently, Delta has been challenged at the Midland facility on Wheeler Road due to an aging building and infrastructure. The new building will offer students an innovative environment with state-of-the-art technology, something Delta strives to provide to all of its students.
"This will be a great learning environment. Our students, educators and employers have been asking us for this opportunity in Midland," said Dr. Jean Goodnow, Delta College President.
The Midland Center new building construction is estimated at $13 million with well over half of the dollars provided by community donors. "We're hoping to have a few more donations before we're done," said Pam Clark, Delta College Executive Director of Institutional Advancement, "and we could top $9 million in total contributions."
Delta College was awarded $7.425 million in support of this project through a $4 million grant from The Dow Chemical Company Foundation, a $2 million grant from The Dow Corning Foundation and an additional $1.425 million grant from the Herbert H. & Grace A. Dow Foundation.
The plan is break ground by fall 2019 and open by fall 2020. The 30,000 sq. ft. of new construction will include state-of-the-art technology, special use training rooms and science labs to strengthen Delta's ability to deliver the highest caliber of college instruction and workforce training.
Centers
Currently, Delta College offers close-to-home educational classes at three off-campus centers - Saginaw Ricker Center, Midland Center and Bay City Planetarium and Learning Center - for many students making their first strides into post-secondary education. In the off-campus environment, many first generation students find success, which can lead to a continuing cycle of education and employment opportunities.
A new downtown Saginaw Center is under construction now. It will open to students in the fall of 2019.
"Delta College has always been committed to providing local citizens with a college education that's affordable, the highest quality and easy to access," said Dr. Goodnow. "I believe this downtown Midland Center will continue to fulfill that commitment to our communities."
Students can get started now. Delta is offering courses at its current Midland Center on East Wheeler Street. Additional dual enrollment and career and transfer options are anticipated to be offered as well.
---
Image downloads