Delta receives $7.425 million for new Midland Center
June 21, 2018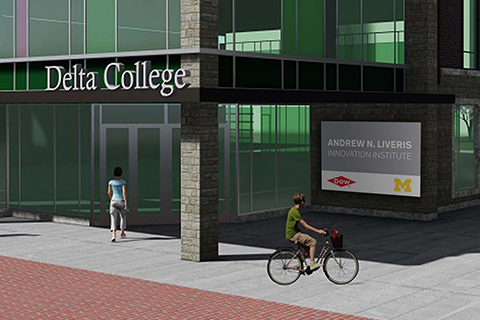 Delta College was awarded $7.425 million in support of its new Midland Center. The funding is the combination of $4 million from The Dow Chemical Company Foundation, $2 million from The Dow Corning Foundation and an additional $1.425 million from the Herbert H. & Grace A. Dow Foundation.
The gift announcement was made on June 20, 2018, at a retirement reception honoring Andrew N. Liveris, chairman and CEO of The Dow Chemical Company. All contributions will be used to construct a new Delta College campus building in downtown Midland.
"We are extremely grateful to The Dow Chemical Company Foundation, the Dow Corning Foundation and the Herbert H. & Grace A. Dow Foundation for their tremendous support of Delta College," said Dr. Jean Goodnow, President of Delta College. "The $7.425 million dollar contribution is one of the largest combined gifts Delta has ever received from the private sector. It will truly make a difference to the economic growth of our area, and in the lives of local citizens."
The new Delta College Midland Center will bear the Dow Chemical Company logo and will house the Andrew N. Liveris Innovation Institute. Along with the gift to Delta, Dow announced its financial support of the University of Michigan. Within the Andrew N. Liveris Innovation Institute, U of M will conduct educational activities with Midland area teachers and students. Also as part of the Institute, Delta College and the U of M will collaborate to develop an interdisciplinary innovation and education hub to inspire the workforce of tomorrow and create sustainable pathways that will have a positive impact on the environment and society. Together this initiative will help to promote science, technology, engineering and math (STEM) education in the Great Lakes Bay Region while also supporting creative and targeted solutions to address many of the community's complex needs.
The newly constructed building will include science and computer labs, classrooms, advanced educational and training technology, special use training rooms, multi-purpose rooms and labs, student services and administrative space. The College is evaluating potential sites this summer and plans to break ground by fall 2019.