Delta College Professor is Making an International Impact
August 2, 2018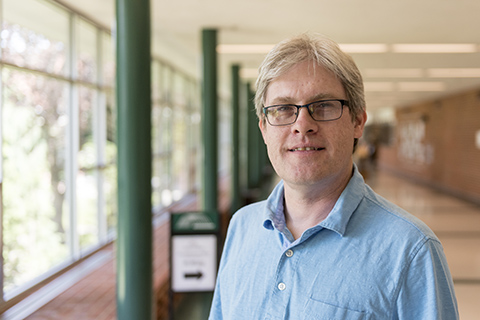 Dr. Michael Evans has been making an impact for Delta on an international level, as he recently became an External Examiner for the History Master of Arts research degree at the University of Huddersfield in Huddersfield, West Yorkshire, England.
"It's flattering, to be asked," Dr. Evans says of receiving the position. "I was invited to do it by a friend of mine, Katherine Lewis, who is a professor at Huddersfield."
As an external examiner, Dr. Evans, who specializes in medieval history, will be reading and grading students' master's dissertations, as well as working with an internal examiner at Huddersfield to negotiate a student's final grade. It is a position Dr. Evans will hold for as long as the university wants him and a position that is done mostly from Michigan and Delta College.
"I am already in place and graded last academic year's exams," says Dr. Evans. "There is a potential that I may have to go to England if a student has to defend their thesis. That hasn't come up yet."
With this position, Dr. Evans will have the exciting and unique opportunity to view students work at a master's level, keeping him in the know of the nuances in his field and where we are in medieval history studies today.
A New Published Paper
Dr. Evans has also recently published a chapter in a book. His chapter, titled Queering Isabella: The She-Wolf of France' in Film and Television, was published in a book that focuses on how modern gender ideologies influence representations of premodern historical figures in today's media.
"It began as a conference paper I proposed to a session at two major international medieval conferences, one in Kalamazoo, Michigan and one in England," Dr. Evans states. "The paper got accepted and the organizers of the session were putting together the different accepted papers into a book."
The chapter that Dr. Evans wrote, takes a look at how Queen Isabella and her husband King Edward II, are portrayed in modern TV and film productions such as the movie Braveheart.
"It was interesting to compare TV and film representations of Isabella and her husband. Filmmakers usually either favor Edward or Isabella," Dr. Evans concluded from his research on the topic.
Bringing the Experiences Back to Delta
He hopes to bring back what he has learned from his experiences as an external examiner, going to international conferences and publishing papers to his classes and Delta.
"It is good to see what's happening in my field," Dr. Evans says. "I can bring that back into my teaching. I can use interesting examples or stories I read as an examiner to make the teaching more lively and more in touch with the subject area."