Emmy Award Winning Professor Teaches Storytelling & Perseverance
July 2, 2018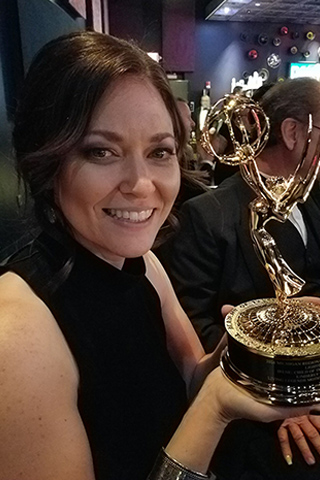 Kimberly Wells, Assistant Professor of Electronic Media, will never forget what it was like to win the Michigan Emmy for her documentary Irene: Child of the Holocaust.
"It was quite humbling to be recognized by my peers in such a prestigious way," Wells says. "Winning was a spectacular experience and a night I will never forget."
Wells worked as the Executive Producer, Story Consultant and as one of the cinematographers for the award-winning film.
Creating "Irene: Child of the Holocaust"
The inspiration for the documentary came from Michigan resident Irene Miller's book, Into No Man's Land. Miller tells of her family's experience of the darkness of the holocaust, the endeavor to find refuge in the Soviet Union, the unthinkable hardships of a Siberian labor camp, and her return to Poland only to endure living in orphanages before moving to the United States, at the age of 21.
"After reading her book I knew I wanted to share her story with a larger audience," Wells says. "The film took two years start to finish, and it took a lot of time and energy, but it is a project I believe in and I am glad I did."
Wells and her production crew are now working on a new documentary film titled, My 2 Brothers. This film tells the story of two Michigan police officers who were both shot in the line of duty and survived. The film is set to be released in the fall of 2018.
Bringing the Experience Back to Delta
"Working on personal projects keeps me engaged in the field," Wells says. "This experience allows me to bring a fresh perspective and on-the-job experience into my Delta film production classes."
If you are someone who has a desire to find a career in film production or to make a film, Wells states that having perseverance is essential, don't hesitate to ask for help when you need it and take any advice you can get.
"It may seem overwhelming and daunting, but just take it one step at a time," Wells says of producing a film and finding a career in film. "It may take years before your project in finished, but before you know it – you'll have completed a film!"