President Goodnow Receives ATHENA Award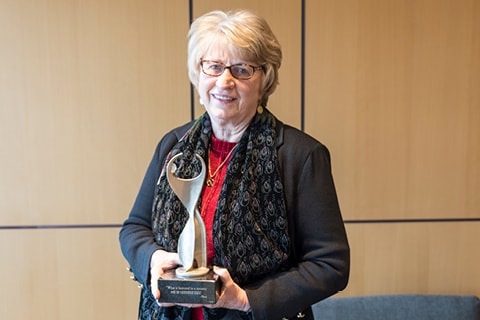 March 21, 2018
Dr. Jean Goodnow, President of Delta College, Michigan, was the recipient of the 29th annual ATHENA Award presented by the Bay Area Chamber of Commerce at its annual meeting held March 20, 2018.
The prestigious award honors those who meet the highest levels of professional accomplishment in their chosen field, contribute time and energy to improve the quality of life for others in the community and mentor other women to achieve their full leadership potential.
"I am deeply humbled to have been selected to receive this award. I'm honored to join the many others who received this award before me, including my good friends Peggy Rowley, Mitzi Dimitroff and Dee Dee Wacksman," said Dr. Goodnow. "I'm very fortunate and blessed to work with wonderful people as I serve both Delta College and our community."
Dr. Goodnow has been President of Delta College since 2005. She earned a Bachelor of Arts Degree in Sociology, a Master of Arts Degree in Rehabilitation Counseling, and a Doctor of Philosophy Degree in Higher Education Administration from the University of Iowa. In addition, she has completed post-graduate study at Harvard University. Before joining Delta College, Dr. Goodnow was President of Illinois Valley Community College in Oglesby, Illinois (1996-2005).
Dr. Goodnow has served on the board of directors for several local organizations, including Midland Tomorrow, Legacy Center for Student Success, Field Neurosciences Institute, Saginaw Future and the Bay Area Chamber of Commerce. Additionally, she spends a significant amount of time representing Delta College and the area, across the state and nationally.
After the ceremony several community leaders, including two Delta College Trustees, expressed their respect for Goodnow.
"I am proud of President Goodnow and her recognition by the Bay Area Chamber by her receiving the Athena Award," said Rev. Dr. Robert Emrich, Chair of the Delta College Board of Trustees. "It is given to a person who exemplifies female leadership and also encourages and enables it in other women. Jean has done that at Delta, where the number of excellent female leaders has increased in recent years."
Emrich added, "Jean is truly one of the great leaders in our midst, and we of the Delta family thank her and congratulate her on the occasion of this well-deserved prestigious honor."
Diane Middleton, Delta College Trustee, said, "Very well-deserved! I'm so proud that Dr. Goodnow is leading Delta College – one of America's finest community colleges!"