New Women's Basketball Coach
December 6, 2017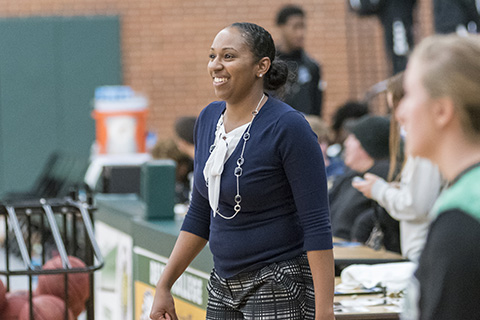 Delta College welcomes Shonda Long as Head Coach of the women's basketball team. Long had a standout basketball career at Central Michigan University and played professionally for one season.
"We're thrilled to have Shonda as the women's basketball head coach because of the guidance and development she will provide both academically and athletically," said Shelly Raube, Delta College Athletic Director. "Shonda is a great addition to our program and we are looking for her to carry on the strong winning tradition of women's basketball."
Long played for the Chippewas from 2008-2011 tallying 1,439 points which is good for sixth all time at CMU. Also, she finished second in career 3-pointers with 230 and her 510 points during her senior campaign which ranks fifth for a single season. Long became the 19th player in CMU history to score 1,000 career points on December 11, 2010 against Northwestern. She also went on to finish 12th in the Mid-American Conference in career 3-pointers and is the only player to have 50+ triples in three seasons. After both her junior and senior seasons she was named to the All-MAC Third Team. Long earned her bachelor's degree in Health Administration with a Minor in Athletic Coaching, graduating from CMU in 2012. After CMU, Long went on to play professionally in Poland for one season.
Long returned to Michigan to join the staff at Alma College for three seasons. In 2015, Long took a position with her Alma Mater, Central Michigan University as a Video Coordinator. In the 2016-17 season, the Chippewas claimed their first regular-season MAC Championship since 1985, achieved the second highest win total in program history and made their sixth post-season appearance in their last seven years.
The Lady Pioneers have won two of the five games they've planned so far this season. Upcoming home games are on December 19 against Rochester University JV, December 21 versus Muskegon Community College and December 30 against Glen Oaks Community College.