Distinguished Law Enforcement Alumni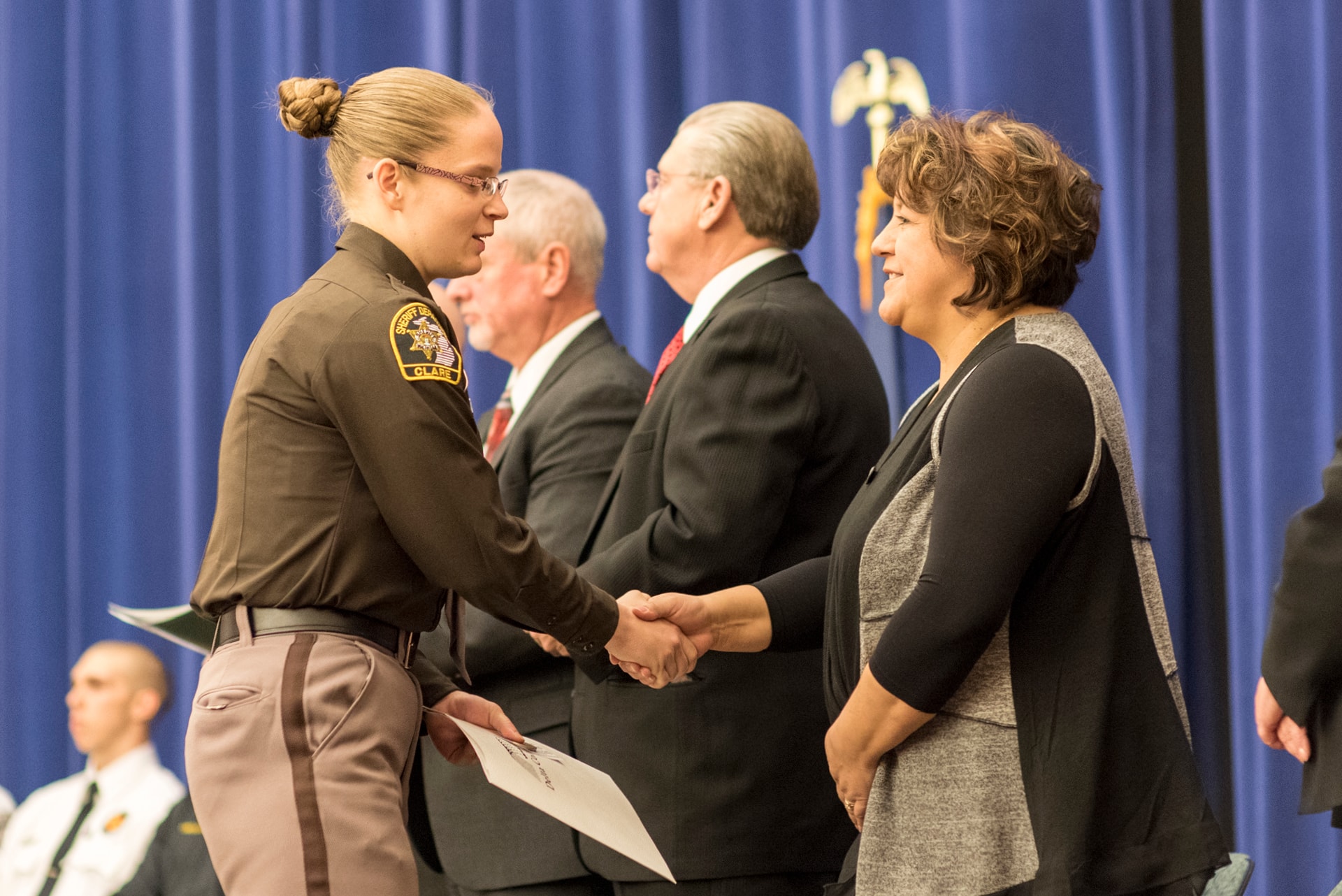 The Delta College Police Academy gave Paula Lounsbury the Jill Gallihugh Distinguished Alumni Award at its graduation ceremony held in December.
The Jill Gallihugh Distinguished Alumni Award was developed in 2005 to showcase academy graduates who are leaders in the law enforcement community. It recognizes professional and scholarly achievement.
Jill Gallihugh retired after 25 years of dedicated service to Delta in 2006, and played an integral part in the success of the academy.
Paula Lounsbury graduated from Elkton-Pigeon-Bay Port Laker High School and attended Delta College, where she earned an Associate in Applied Science degree in Criminal Justice. She graduated from the Delta College Northeastern Basic Police Academy in 1993, after which she began her career at the Saginaw County Sheriff's Office.
Paula started off as a corrections officer in the Saginaw County Jail and rose up through the ranks. She was promoted to patrol deputy and later to detective where she served in various investigative rolls, which included serving on several multi-jurisdictional drug teams.
In 2005, Paula was promoted to sergeant where she supervised a patrol shift and then the detective bureau. In 2008, she was promoted to lieutenant and has since supervised all the different divisions of the agency; law enforcement, corrections, administrative and emergency management. In 2015, she was promoted to captain, the highest ranking internal position within the agency, where she currently oversees the operations of the jail and emergency management.
Paula has attended the Michigan State University School of Staff and Command, and has also become a certified Professional Emergency Manager. She has received many awards throughout the years and was the first female to be promoted to sergeant, lieutenant and captain at the Saginaw County Sheriff's Office.
Of all her many achievements with the sheriff's office, she said her greatest accomplishment is her family, who has always supported her career goals. Paula is married to Norris and together they have two children, Keith and Leiya.