Nursing major finds home at Delta
Tania Ransom said caring for her critically ill grandfather — ​ with whom she was close — is the reason she chose to pursue a nursing degree at Delta College.
"We lived in a rural area of Jamaica, so I had to help with his needs," she said. "I realized he felt relief when I was there, and I want to share the same compassion with other people."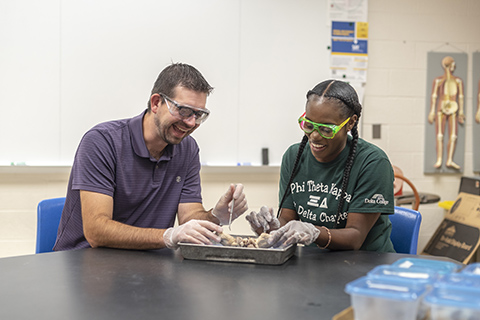 Tania, who moved to the U.S. when she was 17, plans to become a family nurse practitioner. The honors student is in her second year of the nursing program at Delta and said the support she receives is invaluable.
"You get the attention you need to succeed," she said. "Delta College is like being at home."
Caring faculty members, like Kristopher Nitz, have been an important part of Tania's experience at Delta. She said Nitz, assistant professor of biology, was always readily available.
"Because of his passion for teaching and his desire to see students succeed, he would take the time to come to Delta on his days off to help us," she said.
Overcoming fear
One of Tania's most memorable moments at Delta was when she joined Phi Theta Kappa, an international honor society for two-year college students. She said she felt a sense of accomplishment when she was inducted.
"I've always been in a position where I allowed fear to stop me from achieving things," she said. "That day, when I walked on the stage, I decided no more."
Fear has certainly not stopped Tania. This year, she is president of the Honors Leadership Board, which has helped her gain confidence and prepare to enter the workforce. She was recently selected to participate in the nursing program's scholars program.
"As a student, you want to know that you can make mistakes and there will always be people who will support you," she said. "Delta College provides just that."
"You get the attention you need to succeed. Delta College is like being at home."
Tania Ransom
nursing major
Tania plans to begin clinical rotations in January and go on to pursue a bachelor's degree at Saginaw Valley State University.
Are you interested in starting a career in nursing? Delta College is the perfect place to start. Apply now.