Thomas Found a Second Home While Gaining New Skills

Growing up in St. Charles, Thomas became well versed and experienced in the industrial world where he enjoyed the bigger and more challenging work environment. Thomas, a veteran of the U.S. military and former Delta student, has a certain passion for the mechanical world and had a desire to learn more employability skills. This desire led him to return to Delta to pursue an associate's degree in Heating and Cooling Technology (HVAC).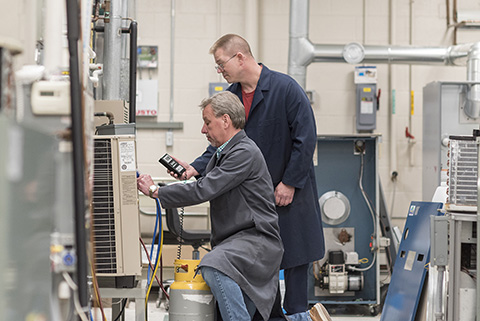 "I chose HVAC because everything that I have done so far is usually mechanical, and with HVAC you're not limited to just one geographical location. Everybody needs heating and cooling."
Another reason Thomas decided to come back to Delta was due the unfortunate relocation of his jobs to other countries and returning to Delta allowed him to learn more valuable skills. "I decided to come back to Delta to pick up additional skills to keep myself employable," Thomas says.
Not only did Thomas discover a place to acquire new and valuable skills, but it also turned out to be a great fit for him as well. A place that acted as a type of home for him, with instructors that helped him every step of the way and classmates who became companions.
"Delta is a good fit for. There are great instructors and it's like home," Thomas says. "There's people here from all walks of life that get into these programs and it's good. I like meeting new people."
Learning More About the Mechanical World
Thomas has really enjoyed the HVAC program because it has broadened his knowledge of the mechanical world by teaching him the ins and outs of heating and cooling technologies. "I looked forward to coming each week, and learning all of the theories and components, and how everything comes together," Thomas says. "All of my life I've been striving to make things work and that's what Delta has done for me."
"Delta is a good fit for me. There are great instructors and it's like home."
Thomas Holubik
Delta College HVAC student
Thomas wants to know how to repair machinery in a world where technology is constantly changing and evolving. "Delta has helped me to think big by teaching me all the skills to be able to work on all the new modern equipment," Thomas says. "If I had one word to describe Delta it is exciting, I enjoy learning all about HVAC and how everything works together and how to diagnose and repair it… It's enjoyable, it really is."
Are you interested in starting a career in heating and cooling technology? Delta College is the perfect place to start. Apply now.