With a background in art, math became a surprisingly perfect fit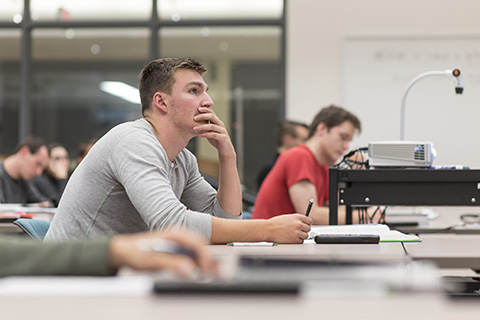 While originally planning to go to art school, that all changed for Sam Rechsteiner when he took a calculus class in his senior year of high school.
The skills he gained from art, like seeing through forms and objects, seemed to translate for him into a super exact method for explaining things with numbers.
"I was planning to go to art school but when I took calculus, math just clicked for me," Sam said. "I think math appeals to me because it gives language to things that are impossible to explain with words. That's really exciting for me."
Delta wasn't Sam's first choice
"I had planned to go to the University of Michigan but got rejected. That's what I was doing, so I didn't have any other plans."
Delta became his fallback plan, then his ideal destination for two years.
"The culture in high school is that if you don't go to a four-year university, you're a failure. So, I wasn't sure I wanted to come here," Sam admitted. "But now, I'm so grateful because the community here, the smaller class sizes, it has been such a better experience than it would have been if I had gone to a four-year university for my first two years."
That experience has included leadership opportunities through the Honors Program's Phi Theta Kappa Chapter and a volunteer stint in Costa Rica renovating a village school with Delta's study abroad opportunities. But it's the faculty that have impressed him the most.
"When I think about Delta's faculty, I specifically think about the math program. A lot of the math classes I've taken had kids from other colleges in them. In fact, Delta has a reputation for great math teachers. My professors have been so intelligent, and professional, and also, they really know how to teach. They're interested in students really learning the material, not just memorizing it for the test."
"Delta made me realize something about myself that I don't think would've happened otherwise – I can be a leader."
Sam Rechsteiner
Associate in Science
Transferring to the University of Michigan

Part of a community
"In high school, I never felt part of a community. But within weeks of coming to Delta, I actually found a group of people who I felt weren't just friends. We're like a community with shared interests and goals. I have a sense of belonging."
Now, Sam is on his way to U of M for a bachelor's degree in actuarial mathematics.
"I thank Delta College for that. I'm so much better prepared ­– as a student and as a person – for what lies ahead."
Are you interested in exploring careers in math? Delta College is the perfect place to start. Apply now.