Returning to School for his Job, Robert is Discovering New Windows of Opportunity at Delta
Robert, who lives in Midland with his wife and three children, has quite the educational background with a bachelor's degree in criminal justice that he earned from Michigan State University (MSU) in 2005. Deciding to go back to school in 2016 under the United States Apprenticeship program for his job at Dow, he hopes to open more doors for himself at Dow Chemical and Dow DuPont.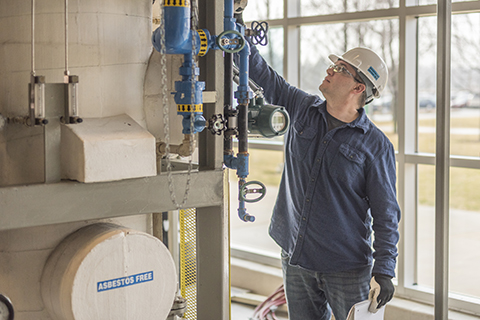 "Through the apprentice program, I go to the plant and work and learn on the job. Then I come to Delta and learn in the lab and classroom setting. Here we are, not two years later, and Delta is like my second home."
Robert is working towards his associate's degree in the Chemical Process Technology program at Delta College and he initially chose Delta due to the reputation that the program here held. "This program is recognized by this area's industry leaders in chemical manufacturing as the premiere training program from which they hire almost exclusively," Thomas says. "I've had the pleasure of having classes with adjunct to Ph.D. level professors that have actually worked in the field."
Along with the training he is receiving from his professors, Robert also found other benefits that Delta held for him including the affordability of Delta and the smaller class sizes, which allows him to connect with his fellow classmates. "It feels more like part of your family and more comfortable," Robert says of the smaller class sizes.
Advantages of a Community College
Going right to a big university, like MSU, straight out of high school was a valuable experience for Robert, but he found himself struggling there at first and now thinks that it may not have been the right choice.
"Knowing what I know now, I wish that I had come to Delta for two years before going to MSU. I think it's an excellent transition for a high school student into a university," Robert says. "I think that Delta College can give you an advantage in several different ways. Financial advantage, location advantage, it's available programs, and the transition period."
"Delta has been a very positive experience. I hope to send my kids here some day before they go to a university."
Robert Logan
Graduate – Associate in Applied Science
Chemical Process Technology

At Delta he found it much easier to get to know people in class, ask questions, and talk one-on-one with professors. "Delta has been a very positive experience. I hope to send my kids here some day before they go to a university."
Robert plans to continue his education in another skilled trades program at Delta after he earns his associate's in chemical processing technology. "You can never stop learning and adding to your knowledge and skill level," Robert says. "This isn't the end for me at Delta. I'm going to be back soon."
Are you interested in starting a career in chemical process technology? Delta College is the perfect place to start. Apply now.