A country girl at heart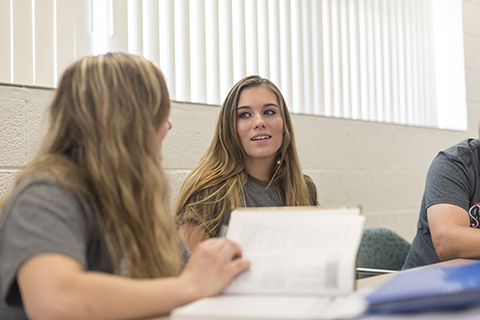 The farm life has always appealed to ReAnna. She grew up in the Thumb, surrounded by livestock and miles of crop fields. ReAnna's plan for the future is to manage her own dairy farm.
"This interest first began when I was in grade school. My best friend grew up on a dairy farm, so I was always at her house working with the animals and exploring her dairy farm. It just really sparked my interest."
ReAnna has known for a long time that she wanted to study agriculture and animal sciences, but where was the problem.
"I wanted to stay close to home, but didn't think that was an option, until I found out about Delta's partnership with MSU."
Michigan State University's Institute of Agricultural Technology (IAT) offers innovative programs that develop career-ready graduates in animal sciences, plant science and electrical technology.
"My classes are relevant and interesting because my professors are working professionals."
ReAnna Hecht
Agricultural Operations
Transferring to the Michigan State University
These programs are in partnership with Delta College and several other Michigan community colleges, and can be completed in two years, including a required internship experience. Graduates also have the option to continue their education by transferring into an MSU bachelor degree program.
"It's a real blessing to be able to live at home for a while, take care of my animals, and get my roots in a program that will transition to MSU."
Living the dream
Everything is going according to plan, and ReAnna couldn't be happier.
"It's my first semester at Delta, and I'm loving my classes. I like my professors because they're professionals working in their field, which make my classes relevant and interesting. I'm so excited to develop my agriculture career here."
Are you interested in exploring a career in agriculture? Delta College is the perfect place to start. Apply now.