Moving from Animal to Human Medicine In a "Dogged" Pursuit of New Challenges
If you've ever had surgery, a surgical technologist was there, protecting you from infection and helping things go smoothly. But Patty doesn't blame you if you didn't know that, and not just because you were asleep.
"A lot of people don't understand what we do," she says. "We make sure everything is sterile, we pass instruments to the surgeon … we're an integral part of the operating room."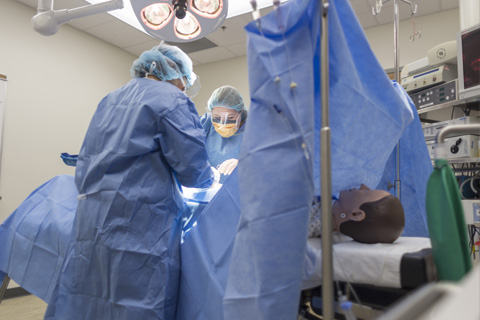 These unsung heroes are on the front line of all types of surgeries. And the constantly new experiences of the job inspired Patty to leave her 18-year career as a veterinary technician and enter Delta College's surgical technology program.
"You see something new almost every day," she says. "I've seen general surgeries, neurosurgery – I've seen a brain. I love going there, I can never get enough."
Along with the excitement factor, making the career change will create an even better life for herself, her husband and their two young children. And while the transition from animal to human medicine has been a lot of work, the effort is paying off.
"My daughter is five and-a-half, and I see that's she's excited about my graduation and proud of me," Patty says. "It's a good role for her to see. It's been tough, but the whole family has been supportive."
Preparing to Work with Humans, Delta's Human Interactions Helped
"I've worked with animals for so long, it was a bit nerve-wracking to leave my little shell of what I knew," Patty says.
But in the two semesters at Delta, along with more than 540 clinical hours, Patty found that the close-knit and supportive setting was just what she needed. It was also quite a change from the larger university where she earned her bachelor's degree in animal science.
"I was used to sitting in a massive hall where you didn't know anybody," she says. "At Delta, you get to know your class and your professors. We walked into this classroom as 15 strangers, and now we've grown close. We've laughed and cried – we've done it all."
The technology at Delta also increased Patty's comfort level. Two simulation labs replicate real operating rooms, giving her a feel for the equipment and instrumentation. She also learned on Delta's Anatomage Table – a large touchscreen tablet that uses images of a real human cadaver.
"It's not just color-coded on a screen or in a book," she says. "It's an actual human body."
"Knowing that I'm all set, as far as a job goes after graduation, is a big relief. Having the opportunity of the externship at the hospital and then being offered a position there was very comforting."
Patty Muehlenbeck
Delta College Surgical Technology Graduate

Thanks to Delta's connections with local medical providers, Patty started an externship with a nearby hospital and was offered a position. She's looking forward to graduating and putting her education to work. And she's sure the new experiences will keep coming.
"I love how the body works and seeing it first-hand," Patty says. "It never gets old. It's like a miracle sometimes."
Are you interested in starting a career in surgical technology? Delta College's program is the perfect place to start. Apply now.