Found: confidence and community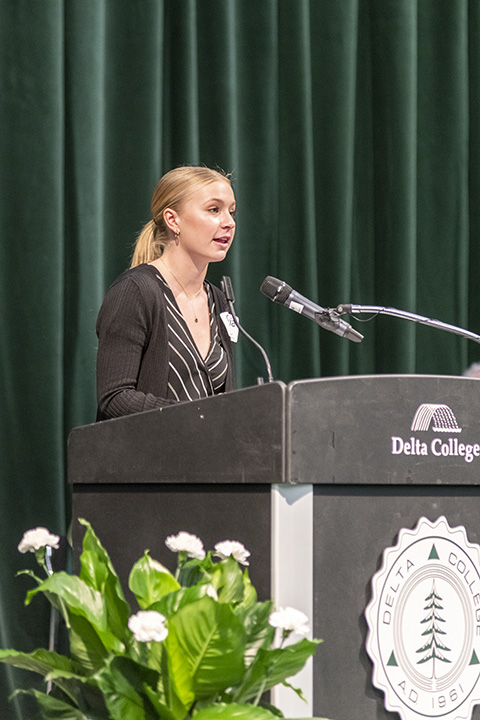 If someone had told Olivia Rechsteiner in high school that she would be standing before hundreds of people giving a speech at the inauguration ceremony for Delta College's president, she probably wouldn't have believed it.
But through the confidence she developed during her time in the Delta College Honors Program, she decided to give it a try. She's glad she did.
"Now I know I can do that, and I think I really learned a lot about myself," Rechsteiner said. "I think I like public speaking. So yeah, that was one thing I learned, and one thing that caused me to think bigger, outside of just my own perspective."
Finding Friends
While Rechsteiner, a general studies major from Bay City, may have come to Delta College to kickstart her education, she found something more – a sense of community.
"I think the number one thing was a sense of another community within Delta," Rechsteiner said.
"I wanted to join something, be involved. Since COVID, my classes were online. I wasn't meeting a lot of new people. So, I thought that would be a really good chance to get to know people my age going here to Delta."
"I've met a lot of people that I've become friends with here," she said. "It's a great way to get involved."
A Fulfilling Future
After Delta, Rechsteiner plans to attend the University of Michigan, where she hopes to graduate with a bachelor's degree in biomedical engineering.
"I knew that I needed something to fulfill me," she said. "So, biomedical engineering is like prosthetics, pacemakers, things that are impacting other people and helping them directly."
"Delta helped me by pushing me out of my comfort zone," Rechsteiner says. "Now I really believe in myself, my abilities and what I can do."
Olivia Rechsteiner
Delta College

General Studies and Honors student
Whatever is down the road for Rechsteiner, she believes the Delta College Honors Program has prepared her.
"It helped by pushing me outside my comfort zone," she continued. "And that has definitely given me the confidence to go forward in my journey."
Are you interested in the honors program? Learn more at honors.