Delta was the perfect fit for McKenna
With a passion for learning, helping others and the sport of soccer, McKenna looked for a school where she could commit 100 percent to all her passions.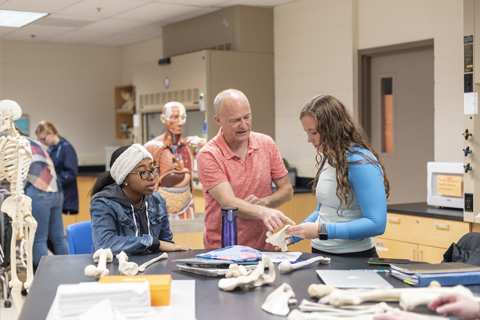 "My favorite thing about Delta is definitely being able to balance playing sports and going to school," McKenna says.
As McKenna began her Delta journey, she quickly learned that it had everything she was looking for.
"I expected a lot out of Delta and it met all my expectations. I anticipated that, yes it would be hard, but people are there to help me, and I have gotten exactly that."
While working through her classes, such as Anatomy and Physiology and Honors Psychology, she found herself getting the whole perspective on the human body. She experienced learning from instructors who love teaching and want to see their students succeed.
"Delta faculty are very knowledgeable," she said. "They love teaching so much, and really want us to know the material too."
A Team Atmosphere
Only a few months into her Delta journey, McKenna is already noticing the sense of community among the students and faculty, all helping one another to achieve their goals. That tight-knit sense of community extends to the soccer team as well.
"Everybody here – from the faculty, staff, counselors, to my peers – everybody wants the best for you and wants to help," McKenna said.
"It is like a family here. Everybody is just happy to be here and to be going toward something in the future."
"To someone considering Delta, I would say absolutely do it. It was one of the best decisions I ever made."
McKenna Fluder
Nursing student


President's Honors Scholarship recipient


Delta College soccer player
Although she's only been at Delta for a few months, her future plans have already changed. After she graduates from Delta with her RN, she plans to continue her education.
"Delta's helped me think bigger about my future. I knew I wanted to go into nursing for a long time, but I sensed I could do even more. Delta helped me realize I could keep going after nursing and become a nurse practitioner in dermatology," said McKenna.
"Coming to Delta is one of the best decisions I have ever made."
Are you interested in starting a career in nursing? Delta College is the perfect place to start. Apply now.